AD 612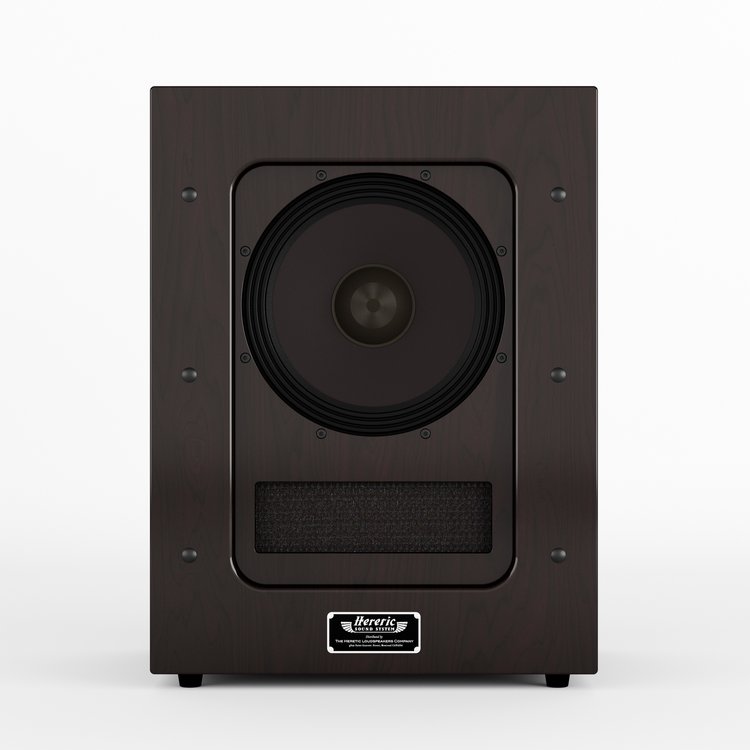 ---
Beskrivelse
Heretic Sound Systems
Laget etter klassiske Altec/JBL normer med fantastisk byggekvalitet og finish , for dere som virkelig elsker musikk og ønsker en lettdreven klassisk høyttaler som passer like bra inn i en moderne leilighet som et klassisk tømmerhus.
97 db pluss gjør at du kan bruke alle gode forsterkere uansett effekt og teknologi.
Ønsk musikken velkommen det er mulig å ha hifi kvaliteter og gøy samtidig.
Heretic AD612
High sensibility
Forget "hard to drive" speakers. Heretic loudspeakers are engineered to work with all amplifiers, including highquality, low power, "tube" amplifiers. Sensitivity rating of 97 dB @ 2,83V and non-inductive tuning means that most of the time, your Heretics will be perfectly happy with less than 1 watt of power.
Point Source Co-axial Transducers
All sounds originates from a single point in space. No transducers all over the place, yielding fuzzy, phasy music reproduction. Excellent soundstage, precise location of intruments and coherency.
Obsolescence is Obsolete : 10 years warranty
No software updates, no drop outs, no electronics to fail, no tracking software or DSPs… Nothing can be simpler : hook your amplifier, play record, that's it and backed by a 10 years warranty.
FSC Birch Plywood construction
Heretics are built from premium, no void, 12 ply birch plywood, which preserve the natural tone of instruments. Unlike energy-robbing MDF, Heretics are renowned for musicality, tone, punch and lively sound.
Easy Placement
Heretics are designed to work with your room and not against it. There is no need to place them in the middle of the room : place them close to the front wall and your room will be filled with true, lively and musical sound. The unique ductless design does not produce the dreaded one-note-boom sound of conventional speakers.
Most loudspeakers have a circuit called "Baffle Step Compensation filter" to compensate the acoustic effect created by narrow enclosures, that boosts low frequencies. Heretic speakers do not have this circuit and rely on the "broad shoulders" of the enclosure, acting as a launch pad for low frequencies. Therefore, it is advisable to place Heretic speakers against the wall and benefit from the reinforcement offered by your natural room acoustics.
Serial Network
One of the secrets of Heretic's musicality is found in the premium, exotic serial network topology, using premium parts such as high gauge Air Core Solen inductiors, Mundorf Capacitors and non-inductive high power, paired resistors on Mil Spec printed circuit board.
No COV
No formaldehyde, no COV. All Heretics are finished with water based acrylic or food grade 100% vegan linseed oil and pure Beeswax.
High quality Copper binding posts standard
Looking at the Heretic site, you'll see there are several other finishes available, and you can order the speakers with or without grilles. If you have munchkins or pets, seriously consider the grilles. Our review pair came in the natural finish.
Gaboury says that the cabinets are made from 12mm Canadian ultra-premium birch plywood. The website says, "Because of tone. Tone comes from rigidity, lightness, and compliance, but not too much." Rather than go on and on, if there is any way you can give these speakers a listen, if you share some of my listening priorities, I think you will really enjoy the Heretics. Should you have a larger room, or need more bass extension, they also make the A612, which is the same driver in a cabinet with more volume.
Sensitivity remains the same, but there is an additional half octave of bass extension. When Mr. Gaboury catches up with orders, he's promising to send us a pair. For now, provisionally, I am purchasing the review pair, but I may hold the checkbook close to the vest until I hear the bigger model. I've got the room. Either way, these speakers have provided some of the most fun I've had in a long time just hanging out and listening to music for its own sake. You'll only need one or two of your favorite tracks to decide if they are the droids you want.
For now, highly recommended, and #toneaudioapproved.
"The Healing Heretics: Heretic A612 High Sensitivity Loudspeakers soothe these bleeding ears with their warm and intimate sound"
—Juan C. Ayllon, Positive-Feedback
"the Heretics capture all of the magic of a classic Altec design – powerful, direct and exciting–with more extension at the frequency extremes"
—Marc Phillips, Part Time Audiophile
"Without a doubt, this system delivered the most fun I'd had during my first two days at the show"
—Jason Victor Serinus, STEREOPHILE
"I was impressed by the loudspeaker's focused and detailed sound, not necessarily expected from a product so retro in appearance"
— Andrew Quint, The Absolute Sound
---
Spesifikasjoner
Heretic AD612
Designed and built in Canada by Heretic Loudspeakers Co. High sensitivity loudspeaker.
Specifications
2 way, ductless, high efficiency 2 way coaxial monitor

Serial Linkwitz-Riley second order network

FSC 12 ply, birch plywood construction

Mil spec circuit board.
Components
303 Heretic coaxial transducer

Low frequencies : 12 in. high power, low frequency transducer

High frequencies : 1 in. coaxial compression driver

Horn profile : Short exponential.
Acoustics
Frequency response : 40 Hz to 22 000 Hz

typical room response : 32 Hz to 20 000 Hz

Recommended amplifier power : 3 to 300 watts, unclipped

Impedance : 8 Ω

Sensitivity : 97 dB @ 2.83 V @ 1M.
Crossover
Corner frequency : 1,7 kHz

Type : 2nd order Serial type Linkwitz-Riley, Air core inductors, Mundorf© Capacitors.
Enclosure
Dimensions : 30,25 in. high, 25,5 in. wide, 17.75 in. depth ; 77 cm high, 65 cm wide, 45 cm deep

Weight : 68 lbs / 40 kg

Volume : 7 cubic feet, 198 litres

Tuning : Ductless port

Construction : FSC 12 ply, void-free birch plywood

Connection : CE compliant isolated copper binding posts. Neutrik SpeakOn available.
Available finishes
Stock colors : Water Based 100% acrylic Black ; Semi transparent linseed oil / bees wax : Clear, White wax (or any Allbäck color).
Suggested Retail Price
Starting at $9 290 USD / pair