Riaa R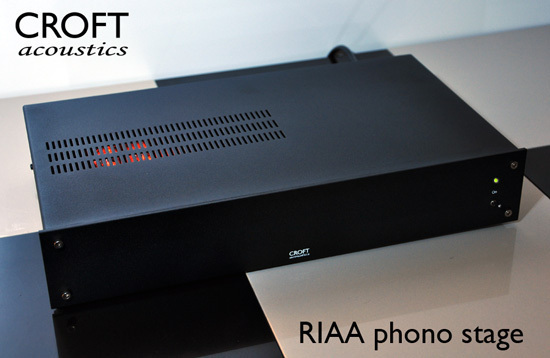 Produsent: Croft
Pris: 13500
---
Beskrivelse
A new Phono Stage derived from the Micro 25R.The RIAA R phono stage is one of the latest designs from Glenn Croft.
effectively derived from the Micro 25 pre amplifier, and as you'd probably expect it features an all valve hard wired signal path with extensively regulated power supplies, fed from two toroidal mains transformers. It's intended for Moving Magnet but can of course be used with high output MCs or standard output MCs if you use any good external step up transformer.
The performance the RIAA R achieves at this price level is incredibly impressive. It has a sound that is characterised by a feeling of enormous grip and authority due to the use of the regulated power supplies, but whilst retaining a good sense of flow and musicality. Unlike many lesser phono stages it doesn't bleach the tonal colour of instruments, which sound very real and present. If you like your vinyl to sound life like and bold .
England's Croft Acoustics has been making some of the very finest tube electronics for over twenty years. Croft pre-amps and amplifiers are minimalist, no compromise designs, carefully handmade, with absolutely the highest regard for maintaining signal purity.
Featuring point to point wiring and selected matched components
In addition to producing exceptional sound quality, Croft's minimalist designs cost far less to produce than many of today's exotic brands. Therefore Croft amplifiers deliver a sonic performance far in excess of what one would expect given their modest prices. This minimalist, quality first philosophy is utilized in all Croft products.
---
Spesifikasjoner
Croft Acoustics RIAA R Phono Stage
Input impedance 47k ohms.
Output impedance 500 ohms.
Sensitivity 2mV for 0.5V output @ 1kHz.
Valve complement 1 x ECC82, 4 x ECC83, 1 x 85A2.