E2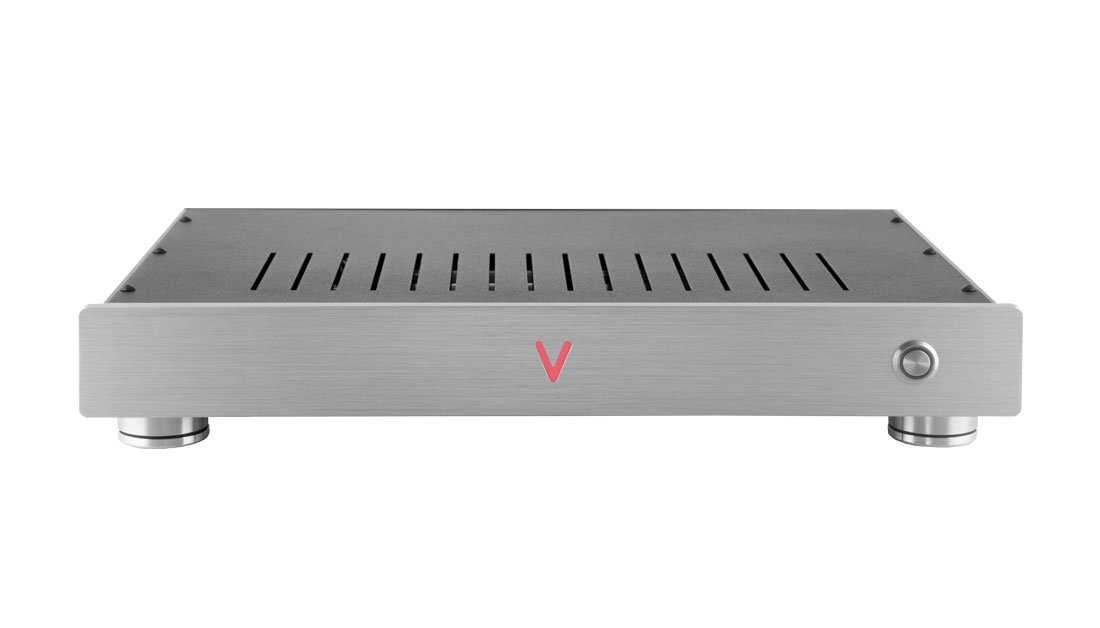 ---
Beskrivelse
Knut Cornils latest amplifier. The German handmade VALVET E2, a very rare breed, is a solid-state single-ended Class-A stereo amplifier in dual-mono design. The E2 is the successor of Valvet's E1 mono-blocks.
BRAND NEW REVIEW:
Jerry Seigel of 10audio.com concluded (02/2018):
"...the Valvet E2 is easily the best sounding amplifier this lifelong audiophile has heard. And it is only $2,990, with no tube issues to drain your bank account in the future. Components like this make us think "I'm done upgrading." That thought is usually accompanied by a wonderful feeling that we enjoy when a new component seems to be as good as it can get. How long that feeling lasts determines if the initial evaluation was correct. So, let me share my two take-aways from reviewing the Valvet E2 Class A single-ended stereo power amplifier. 1) I'm done upgrading. And 2) I bought it. This is a great amplifier!" CLICK HERE to read the entire review
Long-term audio pleasure
The Single-Ended Class-A solid-state dual-mono amplifier E2 is built in pursuit of a goal that is common to all VALVET amplifiers: the transmission of music free from artifacts or manipulation, music that stimulates the senses! A simple but well-thought-out circuit, short signal paths and the best, most reliable components guarantee that your favorite music reaches you directly, thus producing long-term pleasure and satisfaction!

Pure performance
This little amplifier delivers 20 watts into 4 Ohms (12 watts into 8 ohms). At first glance this appears to be a bit stingy, but rest assured that this amplifier is quite capable of delivering the goods even when connected to speakers with 90 dB efficiency.
Pure music
The E2 power amplifier operates in Single-Ended-Class-A mode, with only one transistor in the output stage. We believe that the common practice of employing several transistors in parallel required to produce a higher output is detrimental to the sound quality. If you believe that you lack power, why not use a second pair of these little gems in bi-amping? For those interested in technical details: ultra-stabile power supply, pure dual mono construction (2 independent amplifiers sharing one box and one power cable). 120VA toroidal transformer for each channel, finest parts, pure silver wiring, extremely short signal paths.
CUSTOMER FEEDBACK:

"...the amp is magical! I have never before felt such a direct, involving, physical connection to recorded music. It is truly wonderful!"

"...there is a seductive quality to the E2 power amp that I've not heard before. Instruments sound as real as they do live and vocals are incredible. I'm a former professional jazz piano player and know what instruments sound like when they're right next to you. The E2 provides this kind of realism that I've been chasing for several decades. The E2 is the only amp I've found that allows all kinds of music to sound good..."

"...I've had the Valvet E2 for only a few hours, but it is already impressive. I'm using it to drive a pair of Klipsch Heresy IIIs... Great, balanced sound with excellent control of the woofers. No whumpy bass with this amp. The Valvet seems to have as much or even more drive than the Rogue Stereo 100 it replaced. It also seems to be more powerful and cleaner sounding than my First Watt F7. I'm looking forward to trying it with my Spatial Audio M3s. Thanks a lot..."
SPECIFICATIONS:
- connections: massive silver cinch and Neutrik XLR inputs, input impedance 50 kOhm, massive binding posts for speaker cable (plugs or spades), IEC socket
- amplification: 12 watts into 8 Ohm (20W into 4 Ohm), Class-A, single-ended solid state!
- gain: approx. 21dB
- transformer: 120VA each channel
- filtering: 25,000 µF filtering each channel
- dimensions: 445 x 45 x 300 mm (17.5 x 2.3 x 12.6 inches) WxHxD
- case: black or silver anodized, solid extruded aluminum profiles
- front: silver or black anodized, chromed and polished brass at extra charge
- sound: neutral, balanced, very musical and simply right
REVIEWS (for the predecessor E1/E1r):
Wolfgang Dellen reviewed the VALVET E1 mono-blocks in the German "Hoererlebnis" issue 61
"...the single-ended solid state mono-blocks E1 have thoroughly convinced me. In my opinion, they have what's necessary to become classics. Their natural, warm sound, blessed with vivid tone colors entices the listener to listen on and on."

Review of E1r in the US online publication "Enjoy the Music.com" 11/2012 by Clive Meakins:
"...what was striking me was the superb mix of resolution, imaging and body... upper frequency details were clear and quite brilliant. Bass drive and power was excellent. Instruments were contained in their own space, the whole became greater than the sum of the parts, and it just worked so well musically... With the Valvet E1r amplifiers driving my system I have zero desire to swap them out to try anything else, when a hi-fi component sounds this right you have stop analyzing it and just enjoy the music!"
- read the entire review
Review of the L1 pre and E1r monos in the German magazine "Fidelity" 05/2013 by Christian Bayer:
"...one thing is clear to me. The main thing most amplifers do is deliver informations, like: Miles Davis - Trumpet - Solo. But the Valvets do more than that, they present the music as a whole, communicate the real meaning behind the music and invite the listener to re-discover his favorite music..."
- read the entire review
---
Spesifikasjoner
- connections: massive silver cinch and Neutrik XLR inputs, input impedance 50 kOhm, massive binding posts for speaker cable (plugs or spades), IEC socket
- amplification: 12 watts into 8 Ohm (20W into 4 Ohm), Class-A, single-ended solid state!
- gain: approx. 21dB
- transformer: 120VA each channel
- filtering: 25,000 µF filtering each channel
- dimensions: 445 x 45 x 300 mm (17.5 x 2.3 x 12.6 inches) WxHxD
- case: black or silver anodized, solid extruded aluminum profiles
- front: silver or black anodized, chromed and polished brass at extra charge
- sound: neutral, balanced, very musical and simply right