Urushi Cobalt Blue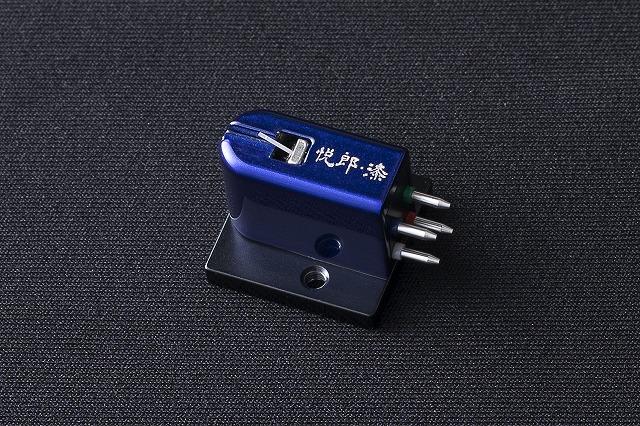 ---
Beskrivelse
Fantastisk pickup fra Japanske Etsuro , hvis du er ute etter noe virkelig spesielt ta en kikk på denne- god kandidat til "din siste pickup" - topp omtaler.
Audiophiles
Let's face it, despite some audiophiles consider the Etsuro Urushi Cobalt Blue MC phono cartridge mid-priced, it isn't inexpensive. Still, one gets what they pay for with this cartridge, and I only mean that in the best of ways. The Cobalt Blue is a super-transparent window into the sounds that have been etched into an LP's surface. Its frequency response in the extremes are thrilling, and even though its output is low enough to demand one use the best phono preamplifiers one can afford, this also will yield more sonic dividends than one ever thought possible at this price. Yes, there are more expensive phono cartridges available, but I strongly advise considering this one before spending more.
---
Spesifikasjoner
The Cobalt Blue uses the Microline tip stylus possessing ideal curvature of 80μm contact surface against the record groove. This contact surface achieved a superior reproduction characteristic. Cobalt Blue has been created to naturally reproduce the sound cut on the record.
Ultra-precise Sapphire pipe material has been introduced for the cantilever. The remarkable hardness of the sapphire will help reduce distortions and is also superb in the transmission of high speed vibration to create an increasingly clear sound.
The magnetic circuit combined the performance proven samarium cobalt and electromagnetic soft-iron to achieve the magnetic features consistent with the coil vibration. Overall balance and steady sound has been secured. The terminal pin has selected to use rhodium plating.
Extra-super duralumin (A7075) known for its extreme strength among the aluminum alloy has been chosen for both the cartridge housing and the base section. Because of this, the cartridge succeeded to gain overall rigidity to the structure and avoid unnecessary resonance.
In addition to this extreme strength, the Extra-Super Duralumin housing has further been reinforced and handcrafted by the Japanese traditional craft urushi lacquering. This gives the cartridge a superb strength, weight, and a beautiful aesthetic appearance of the cobalt blue color.
The experience and craftsmanship built for over half a century will unlock the door towards the renewed sound of analog record.
Type Moving coil
Frequency response 15-50,000Hz
Output voltage 0.25mV/1kHz
Output balance <0.5dB/1kHz
Channel separation 33dB/1kHz
Tracking weight 2gr
Impedance 3Ω/1kHz
Trackability >70μm/2gr
Stylus shape 80μm microline diamond
Cantilever 0.4φsapphire pipe
Cartridge base Extra super duralumin(A7075)
Cartridge housing Extra super duralumin(A7075)
Housing processing Urushi handmade Terminal pin Rhodium plated
Cartridge weight 8.1 grams