Proteus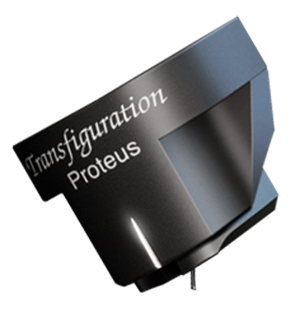 ---
Beskrivelse
Proteus leveres nå i en nylig revidert utgave og er nå en av de desidert beste pickupene i verden, den er i en klasse sammen med 3-4 til som er så bra at det ikke lenger er snakk om hvem som er best, kun hva en liker best og sammensetning med arm og drivverk.
Det som skiller er prisen, Proteus er ikke billig, men Transfiguration nektet å øke prisene tilsvarende konkurentene da de lanserte Proteus slik at flere musikkelskere skulle få oppdage hvilken fantastisk skatt som ligger i analogt- de få konkurentene som finnes koster det dobbelte og mer.
Testene som kommer nå sier også det samme, dette er så bra som det kan bli.
Transfiguration Proteus MC Phono Cartridge
Transfiguration cartridges are masters of natural musicality. The exclusive patented yokeless ringmagnet generator construction places the moving coil at the focal point of the magnetic flux field leading to a new level of focus and natural resolution due to the reduction of phase errors generated by the magnet-with-pole-pieces construction of other cartridges.
Transfiguration Proteus is their flagship moving coil phono cartridge, a product of sonic brilliance and a major step forward in analogue performance.

Transfiguration worked hard to improve the already stunning Orpheus L and Proteus is a major step closer to the ideal where the ultimate audio components will be those that simply don't seem to exist - so good that they add nothing and subtract nothing. The 'straight wire with gain' situation.

The biggest strength of the Proteus is its lack of character, but herein lies its strength. The better the system that it is used with, i.e. the faster, more tonally and transiently seamless, dynamically unlimited, with extended frequency range... the more it will reveal within the music and you will continue to discover previously hidden information on your records.

One of the finest cartridges ever.
The Proteus represents the pinnacle of all that Seiji Yoshioka has learned and achieved in his pioneering and perfection of the ring-magnet construction in phono cartridges. Listening to the Proteus on a top turntable and arm combination, the usual audio industry descriptors fail...there is only music, intensely communicative music. The phenomenal resolution can only be understood in musical and emotional terms..."did you hear how he bent that note? ...how could she do that with her voice? You can feel her pain..."
Proteus is the name of an early Greek sea god known for his ability like water, to change forms, flowing from one to the next. This aptly describes Transfigurations Proteus and its chameleon-like ability to become whatever music it sees. Liquid, powerful, delicate, transparent...and teeming with life.
When you are ready to unleash the gods of music hidden in the grooves of your favorite LP's, it is time for Proteus...
---
Spesifikasjoner
Specifications

- Body: aluminium, resonance controlled
- Cantilever: 0.3mm solid boron
- Stylus: PA (3 x 30µm) solid diamond
- Core/coils: Ultra grade 3S - µ metal square core with 5N silver coils
- Magnet: neodymium – front & rear
- Weight: 7.8g
- Output voltage: 0.2mV (3.54cm/s, 1kHz)
- Internal impedance: 1 ohm
- Frequency response: 10Hz – 20kHz +1.5dB, 20kHz – 40kHz +2dB
- Channel separation: > 30dB (200Hz - 1kHz)
- Channel balance: < 0.5dB at 1kHz
- Tracking ability: > 70µm at tracking force 2.0g at 315Hz
- Dynamic compliance: 13 x 10-6 cm/dyne
- Recommended loading: > 10 ohms
- Recommend' tracking force: 2.0 g
- Optimum working tempurature: 23º celsius
- Break in period: 30 hours
Technical Details

1. Push pull damping

A special compound has newly been meticulously designed and fabricated to provide total stylus/coil alignment and control. It's non-sensitivity to temperature change keeps the damping coefficient stable and improbes tracing accuracy.

2. Twin coils on the cantilever fulcrum

Minimizes dynamic mass and mechanical impedance, enabling instant, accurate reaction to every groove detail, including the ability to handle massive transients without overshoot or break-up.

3. Special alloy core for coil assembly

This increases sensitivity by 35dB, improves signal to noise ratio eliminating a usual source of distortion.

4. Neodymium magnet

Thanks to the much higher induced magnetism of the neodymium magnet in the rear of the double ring magnets, the coil-turns of the generator have been reduced. It is very helpful to reduce the internal impedance to 1ohm, which contributes to the improvement in the solidarity with transparency.

5. Low mass tip

Ogura PA (3 x 30µm) tip shares many of the advantages of this flagship MC cartridge with the Phoenix and Axia. Its function is to reproduce the character of the original recorded sound - not add or subtract its own deficiences.

6. Anti-resonance cartridge body

The solid cartridge body utilizes both shape and material to create a totally inert environment for the electromagnetic elements. These elements are more effectively insulated from arm, turntable and tracing noises, further reducing any tonal coloration of the music and lessening the illusion of distracting mechanical noises.