Micro 25RS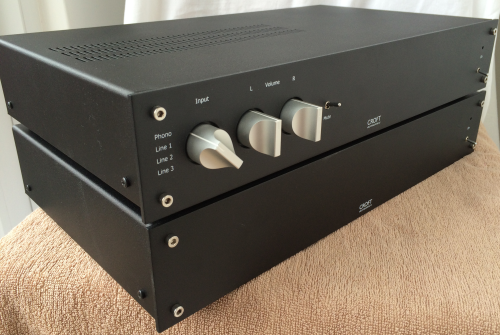 Produsent: Croft
Pris: 36000
---
Beskrivelse
We are delighted that Croft is again making products offering the pinnacle of performance, and as is Croft's way, at extremely affordable prices. The Micro 25RS builds on the 25R preamp by adding a separate outboard power supply, and significant improvements to the: line stage, ht regulators, components and sockets. Heart-stopping 550VA transformers deliver the juice. At roughly $5,000 retail, the Micro 25RS is quite possibly the best value pre-amp on the market. The Micro 25RS power supply pictured here.
The Micro 25RS preamplifier and the Series 7 mono amplifiers are the result of 35 years of development time by Glenn Croft, a talented circuit designer and sound fanatic, products from Glenn Croft ares marked by the goal of even the smallest sound information to maintain and reproduce the music as a whole and in its full dynamics. since Glenn Croft feels consistently and exclusively committed to the ideal of the highest fidelity, his equipment is kept in an absolutely pure design.
A two box pre the Micro 25RS – which is essentially a Micro 25R with better line stage, ht regulators, components, sockets and matching separate power supply box with 550VA transformers
---
Spesifikasjoner
Input impedance Phono 47k ohms.
Input impedance Line 100k ohms.
Output impedance 2k ohms.
Input sensitivity Phono 1mV for 0.5V output @ 1kHz.
Input sensitivity Line 170mV for 0.5V output.
Valve complement 4 x ECC83, 1 x 12BH7A, 2 x 85A2.