Incito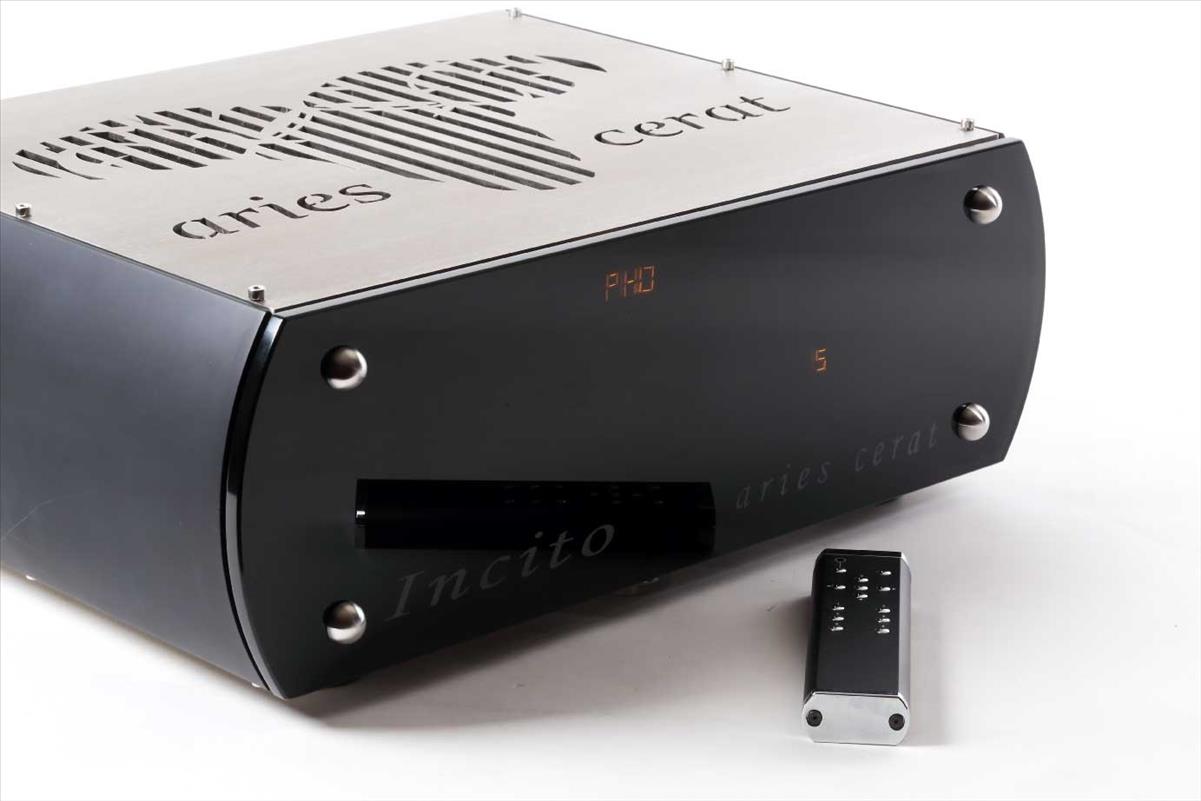 ---
Beskrivelse
Incito er Aries Cerats rimeligste preamp, men det sier ikke så mye- dette er en fantastisk preamp som de fleste high end produsenter bare kunne drømme om å kalle deres referanse produkt. Vi har satt en introduksjonspris vi kan holde noen måneder.
Rørbasert med en enkel krets og massiv powersupply og reguleringer - vekten er rundt 35kg.
Lyden er så bra at det er vanskelig å prøve å forklare på vanlig hi-fi språk- Aries Cerat bør og må oppleves hvis du ønsker de ultimative produktene idag, jeg kan ikke engang forestille meg hvordan deres referanse produkt lyder som- men vi skal finne det ut etterhvert.
Along with our Newest Prestige line power amps ,came the need for a high performance preamp to suit the quality of our new tube amplifiers,while keeping the cost and size to manageable levels. Our newest preamplifier was developed for some years now, but never had the chance to be consumer ready. Finally, the Incito preamplifier is launched.
We took a great Einstein's quote, "Make everything as simple as possible, but not simpler" ,and absorbed it in our current audio design mentality. Simple circuits always work and most important, sound much better. However, simple solutions come with many shortcomings. Especially in audio ,this comes in the form of questionable measuring performance.
This is not the case with the Incito preamplifier. The heart of the Incito preamplifier is a zero feedback power gain stage, which is consisted of a transformer-coupled super-triode, using the ultra high trans-conductance E280F which was only made by Siemens. This superb tube is loaded with a highest quality step down transformer. Measuring data speak for themselves for this highest quality combination. Voltage swings of over 320V are easy task for the power stage, and is stepped down to 80Vpp, while keeping transistor-like noise figures. Our step-down transformer provides very low output resistance and more than adequate current to drive any load down to 250 ohms!
The power supply is built around the 5AR4 rectifier, with separate double pi filtering for each channel,using oversized chokes ,and high speed capacitors, along with an ultra low noise adjustable bias supply.
A high quality discrete ralay-latched-resistor attenuator is used ,accompanied with supreme quality signal relays. True balanced outputs are standard , and all inputs are custom configurable.
Se supertest hos enjoythemusic.
ttp://www.enjoythemusic.com/superioraudio/equipment/0915/Aries_Cerat_Incito_Preamplifier_Review.htm
Aries Cerat Incito Stereo Preamplifier
Price: $12,000
Designed and manufactured in Cyprus, its chassis is made of solid stainless-steel with sides made with aluminum. This preamplifier has an opaque black glass front panel with no controls. Reddish-yellow numitron tubes with a seven-segment filament to form the characters that shine through the glass front panel. Impressive looking, yes, but it sounds even better with a weighty, transparent sound that blows away every preamplifier I've ever heard below $20,000! It excels at revealing inner details and microdynamic shading, and when playing orchestral recordings each instrument is accurately placed throughout a panoramic soundstage, but can also bludgeon a listener when playing a heavy metal record without turning the individual instruments and voices on the recording into a sonic sludge. It can reproduce a classic Blue Note small jazz ensemble record as if one is a fly on the wall of the studio, but it never, ever, sounds over-analytical. I suppose I could say the Incito sounds like music. But even that metaphor doesn't fully describe the Incito; Aries Cerat's achievement in preamplifier design is awe-inspiring. Surprisingly, from what I gather on their website the Incito is their smallest preamplifier. I can only imagine the sound of their preamps higher up in their line, or the Incito paired with other Aries Cerat components. – Tom Lyle
---
Spesifikasjoner
Specifications:

Full swing signal bandwidth : -6db @ 4Hz~100kHz

Maximum signal output swing: 32Vrms @ 10kohm load

Output Impedance : <50ohm

Max harmonic distortion : 0.005% typical (<0.1% THD @ 20Vrms)
Dimensions & Weight: 480mmW X 320mmD X 165mmH 33Kg unpacked