Andros 1.2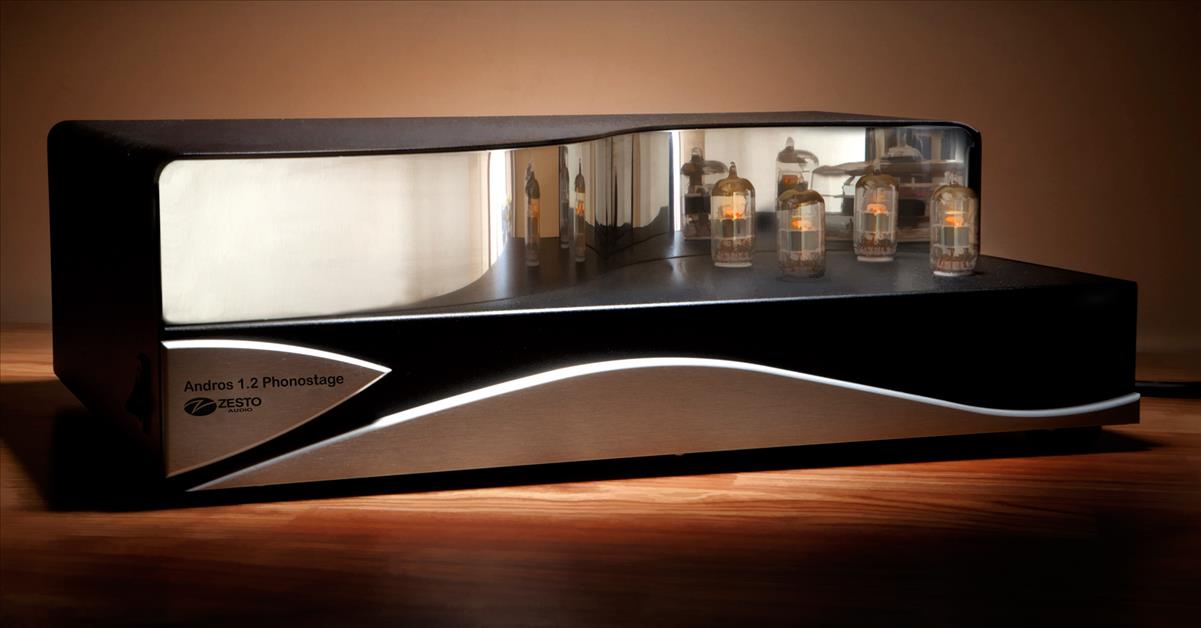 ---
Beskrivelse
Why Vinyl Records
For true audiophiles, nothing equals the warmth, dynamic range and fidelity of vinyl records. A critical component of every music lovers Vinyl playback system is the Phonostage or Phono preamp.
Why a Phonostage is So Important
When a vinyl record is made the volume of the bass is reduced and the treble is increased. Otherwise, the bass would cut a groove too big for a stylus to read or for the music to fit the record. The phonostage reverses the process by taking the delicate signal from your cartridge and adjusting it so that the bass and treble are restored to their original volume. This common standard is known as the RIAA curve.
The Andros
Inspired by RCA's vacuum tube circuit designs from the 1930s, the Andros has been engineered to bring you the clarity and depth of the original recording. Your highs will be crisp but not overly emphasized, your midranges clear and present without being shrill and your lows full and firm without being boomy.
A Startling Difference
As we went through testing our panel of audiophiles marveled at hearing subtle nuances, discovering new things in recordings they'd played many, many times. They appreciated its clear stereo image with maximum channel separation and minimal phase distortion.
Hearing is Believing
Words are inadequate to the task of explaining the Andros. You simply must hear it to believe it.
What is Andros?
Andros is a Greek Island, and the home of my grandmother's family.
Key Features
The Circuit is specifically designed to provide sufficient amplification to match your cartridge with the rest of your system.
Each unit is hand built "Made in the USA".
50 hour factory burn in on all circuits and vacuum tubes.
A low Noise level of -75 dBu below maximum output allows the quietest passages of you music to be heard.
The output circuit is designed to drive your cables and isolates the output from the influence of the next stage.
RCA connectors are high quality, Gold plated, recessed with an isolated ground.
Isolated ground RCA connectors plus the Ground On/Off switch will allow you to choose the best ground configuration.
Recessed RCA connectors are durable and will hold up to the typical Audiophile who loves to change their configuration.
All switches and knobs are easily accessible, nothing hidden inside to adjust.
Two position MM switch 47K and 15K Ohms to accommodate more cartridges.
10 position MC load switch from 20 to 1000 Ohms and more in the sweet spot above 200.
Accommodates both high and low MC output cartridges
Elegantly designed 16 gauge steel enclosure to help isolate the electronic "chatter" from nearby equipment.
On/Off power switch conveniently mounted on front side panel
Easy to read large type on back panel
---
Spesifikasjoner
Specifications:
Inputs per channel
Separate MM and MC inputs
MM/MC switch
MM impedance switch 47K or 15K Ohms
MM capacitance 200pf
MC Single Ended RCA with isolated ground or Balanced XLR3F
MC ground on/off switch
MC load impedance adjustable 1000, 800, 600, 500, 400, 300, 200, 100, 50, 20 Ohms
MC Internal step up transformers
MC High/Low switch with -6dB gain for high output MC cartridges
Outputs per channel
Impedance 10K ohms
+6V max output level
Active Components
Four (4) Gold pin JJ ECC83S/12AX7 vacuum tubes with high quality gold pin ceramic sockets
Power
Ground binding post
Power consumption 27W , 0 drain when off
Voltage 110/120V AC 60Hz
Optional factory installed 220V or 230/240V AC 50/60Hz
Standard 3 pin IEC power connector
ON/OFF power switch conveniently located on the front side
Two internal high quality linear regulated power supplies, 250V and 12V
Detailed Specifications
Gain MM input 47dB
Gain MC input 67dB
Noise – 75dBu below max output level
Frequency response complies with the original RIAA curve within +or- 0.5 dB
RIAA curve is achieved using a passive filter
1% metal film resisters throughout
Polypropylene capacitors throughout the audio path
Other Features
"Made in the USA" using US and imported parts
Each unit is built by hand
50 hour factory burn in on all circuits and vacuum tubes
Dimensions 17″ W X 12″ D X 5″ H
Weight 20 lbs.
16 gauge zinc plated steel enclosure
Two year limited warranty
Six months warranty on Vacuum Tubes