Cornet 2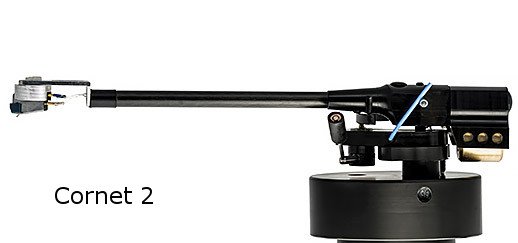 ---
Beskrivelse
Unipivot arms are usually designed with the pivot sitting in a silicone bath. The problem with this design is that the silicone bath takes quite a while to settle down, so the sound of the arm changes as it plays. Many unipivots uses eccentric counter weights to insure proper azimuth.
Cornet's unipivot design uses a new approach: to maintain azimuth, along with a special material, developed with viscosity properties that do not flow and do not require "settling time".
A hi-tech carbon fibre tube with fibres along the length, not wrapped around the arm, greatly increases the strength, resonance control and rigidity of the arm.
Cornet arms also have an unusual new headshell design. Meticulous attention to the material went into the development, producing an arm more sonically in phase. The headshell also has no finger lift. These features ensure that the arm is properly balanced and no uncontrolled resonances run around the headshell.
The Cornet 1 tonearm shares most of the same performance features of the more expensive Cornet 2 - long grain Carbon fiber, Unipivot design, in-line headshell and a magnificent marriage of materials.
All our arms share the same - family of sound - we believe, they have to, in order for all to sound right in combination. Thereby the differences between the two arms are subtle yet still clearly audible.
The Cornet 2 tonearm ($2295) is said to be a unipivot, but the actual design is a bit more complicated than a typical unipivot. The tonearm pivot comprises two short parallel metal bars (traveling in the same plane as the headshell to counterweight) that are located horizontally on either side of a roller bearing. The roller bearing sits atop a unipivot shaft. The roller bearing and horizontal bars restrict 'arm movement in unwanted directions and help keep azimuth settings stable. The armtube is made of carbon fiber with the long grain oriented between the headshell and pivot point. The brass counterweight is secured to the 'arm by a springy, friction-fit, open C-shape clamp. Tracking force is adjusted by sliding the weight back and forth in this spring clamp. The 'arm has a collar with height-adjustable screw for fine VTA/SRA adjustment, once VTA has been roughly set with the base collet. Offset angle and overhang, as well as provisions for anti-skate and azimuth, are also user-adjustable.
---
Spesifikasjoner
Specification : 10" Cornet 2
Distance from Tone arm center to spindle: 222mm
Effective mass: 12, 50 grams
Arm's length: 29,50mm
Tonearm effective length: 239mm