Diana Forte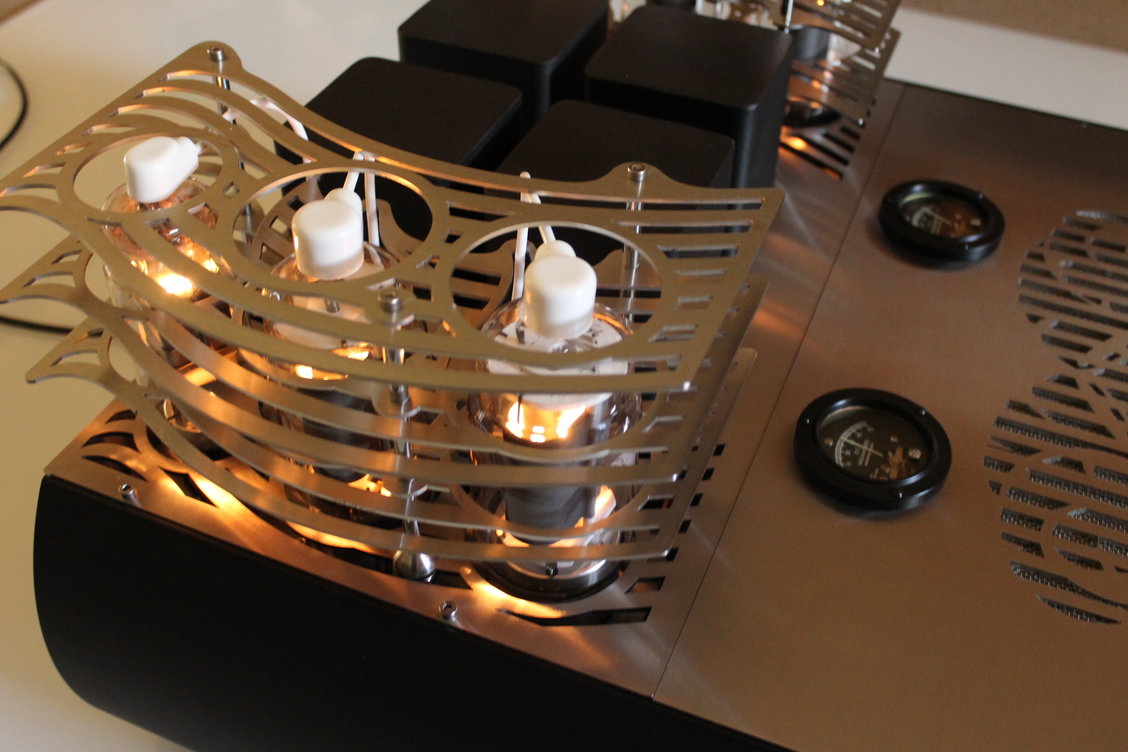 ---
Beskrivelse
The Diana Forte's circuits are based on the Diana Integrated amplifier output and driver stages. The Output stage is scaled up to deliver over twice the power achieving a true 60W (70W peak) of SET magic per channel. The parallel SET output stage is built around the 813 DHT big bottle tube. This in turn drives an oversized core OPT constructed using special winding techniques to deliver wide bandwidth at full power.
The amplifier driver stage is the one of the most linear tubes, the 814 DHT tube, loaded with a special quality double-C core bifilar winded inter-stage transformer. The Diana Forte's amplifier is connected to its accompanying Diana Mezzo pre-amplifier via our proprietary AC link. As with the Diana Integrated and the Concero amplifiers, all stages are coupled with our special AC link method of coupling, delivering superior performance in the frequency extremes, transient response, and overload conditions.
The output stage PSU is a dual completely separate set of choke-filtered capacitor banks using our unique Super-capacitors. The SuperCaps come from a selection of special purpose film capacitors with ESL and ESR parameters 100 times lower than any film or electrolytic capacitor.
The high energy-high speed capacitor banks deliver a superbly robust power rail for the parallel SET output stage.
The driver stage also uses choke filtered capacitor banks, with their own separate power transformer to avoid PSU cross-talking.
All tubes can be biased and monitored on the fly as well as can be matched using the Diana Forte as a stripped down tube tester.
All six filament PSUs are triple filtered, ensuring this all DHT power amplifier delivers the lowest noise floor of any SET power amplifier.
Our Diana Integrated received the Reference status, @ Haute Fidelite Magazine,receiving the highest score in record.
""... if we are searching for the pure musicality, the emotion reflected on the notes, the "goose bump" of our British neighbours, there is nothing left to compare to the Diana.""
""Still reeling from such perfect sound quality, we must recognize that the Aries Cerat
Diana is a wonderful device for reproducing music. The clever mixture of ancient and
modern technologies results in an electronic device, which is captivating, magnetic
and highly faithful. Not really powerful on the paper, the device conceals in reality a
considerable vitality inspiring tons of authenticity to the reproduction. Bravo!""
---
Spesifikasjoner
Specifications
Max Power: 60W SE Class A (70W peak)
Max Power bandwidth: 15Hz- 110Khz
Noise floor: 100db
Combined gain: X 20 (26db)
Dimensions: 570mmW X 590mmD X 350mmH
Weight: 110Kg unpacked
Tubes: 2X814, 4 X 813