Aurium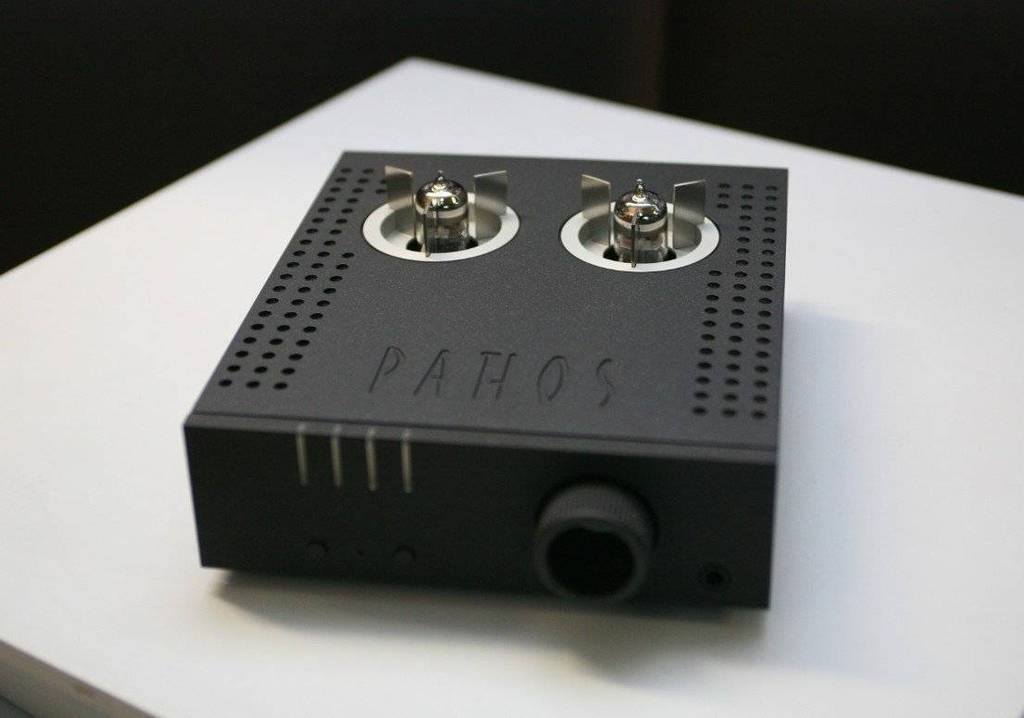 ---
Beskrivelse
Meget bra hodetelefonforsterker , what hifi favoritt i mange år.
Pathos rose to the challenge of putting its best technology and build quality into a headphone amp that sits comfortably on a desktop. The Aurium is a pure class-A amp that couples a tube stage with a MOSFET power stage. MOSFETs sound like tubes yet have a powerful grip on bass. There are few better ways to combine the magic of tubes with the extended and tight low end of solid-state than the Aurium.
The zero-feedback circuit offers all of Pathos' hallmarks: exquisite musicality, airy transparency, punchy dynamics, and total lack of listening fatigue. It is super-accurate and if you want to fine-tune the sound you can tube roll with any of the 6922 family or the 7-volt family such as the 7DJ8.
We love solid build quality and the Aurium has a thick aluminum chassis, high-quality components, big transformer, and a knurled volume knob that operates an expensive Burr Brown attenuator. Inside, there are details that make all the difference. For example, the DC filament transformer is shielded from the rest of the sensitive circuitry, lowering the noise floor.
On the back of the Aurium is a balance control to ensure your soundstage is dead center. There is also a gain trim setting which allows listeners to set a comfortable range on the volume knob, thus optimizing Aurium for headphones of any sensitivity. Worried about your low-impedance in-ear monitors? Fear not. The Aurium will handle those and pretty much any headphone available. The stock power supply is beefy and gets the job done with aplomb.
Conclusion
The Pathos Acoustics Aurium headphone amplifier integrated perfectly with my home head-fi system, fitting neatly in a corner of my desktop between my iMac and five-shelf audio rack. It performed capably with three different headphones, each with a different sonic signature and power needs. Aside from the first sample's faulty Balance control, I encountered no problems with its operation. I adored its looks. And I loved its sound, which served every kind of music equally well.
Today, the crowded category of headphone amplifier offers many good options, whether all-tube, all-transistor, or hybrid. If you're looking for something with real power and versatility, arresting looks, and seriously good sound, I heartily recommend the Pathos Acoustics Aurium. You may end up buying one. I did.
. . . Garrett Hongo
garretth@soundstagenetwork.com
---
Spesifikasjoner
Output power: 3.6 W @ 16 ohm, Class A zero feedback
Output impedance: < 0.5 ohm
Output level: 7 V RMS max
Frequency response: 10 Hz - 80 KHz
THD: < 0.1%
Analog inputs: 1 x balanced XLR, 3 x RCA line
Analog outputs (TAPE OUT--fixed volume output): 1 x XLR, 1 x RCA
Max input level: 6.4 V RMS unbalanced, 3.2+3.2 V RMS balanced
Main voltage: 90-250 V 50 / 60 Hz
Power consuption: 30 W
Dimensions: 7.8" (D) x 9" (W) x 2.3" (H)
Weight: 6.6 lb (3 kg)