M3scd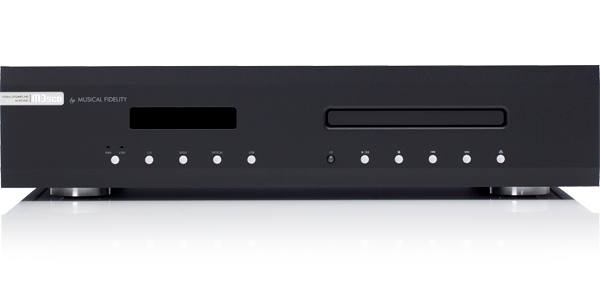 ---
Beskrivelse
Like the matching M3i integrated amplifier, the M3CD CD player is designed as serious hi-fi available at a modest price. From the fine fit and finish of its metal casework to the unique technology sitting inside, the M3CD exceeds expectations.
The M3CD builds on our years of engineering expertise, uniquely featuring both a mains choke filter and a high-tech digital-stream noise filter. Such innovations enable the player to deliver technical performance; it boasts low distortion and a virtually flat frequency response, plus minimal noise and jitter.
The M3CD's DAC design also draws from its high-end siblings, using cutting-edge technology to ensure excellent data recovery from your discs. Simply put, that means you'll hear more from your music.
Hi-Fi World's review of the M3CD called it "a very mature and polished performer", which "sounded refined and elegant".
We say it's a great-looking, superb-sounding player you have to see and hear.
DESIGN AND BUILD
The M3CD offers an elegance and excellence of build and finish that belies its price. As with the M3i, its front panel is a custom-made extrusion of solid metal, with matching metal volume knob and buttons.
The CD player's performance is engineered to be equally smooth, serene, and structured – without colouring the sound. As Hi-Fi World's review confirmed: "It's best described as clean, open and detailed, with a pleasant lilting musicality, underlined by a strong backbone".
We believe the first step to achieving such musicality is excellent technical performance; the M3CD is packed with exclusive innovation that successfully minimizes distortion, noise and jitter.
The player uniquely features both a high-tech digital-stream noise filter and a mains choke filter. The mains choke - first developed for our mighty Titan power amp - removes unwanted mains interference and maximizes the efficiency of the M3CD's five independent power supply units.
The M3CD uses an advanced, dual-differential DAC design that offers eight-times oversampling. This is fed from the player's high-quality, slot-loading CD transport, which smoothly handles your disc collection. This DAC and transport combination delivers greater accuracy, enabling you to hear more from your favourite CDs.
The perfect partner for the M3CD is, of course, the matching M3i integrated amplifier. You can simply pair them via a line-level connection and control them both from a single handset.
---
Spesifikasjoner
M3scd - Overview
The M3scd has been designed to give outstanding CD reproduction and to be a digital hub.
In addition to CD it has 3 digital inputs: coax, optical and asynchronous USB. This makes it particularly useful for set top boxes and/or TV sound improvement. The technical performance is excellent; it has very low distortion, extremely low jitter, excellent signal-to-noise ratio, extremely flat frequency response, exemplary linearity and excellent channel separation.
All in all the M3scd gives excellent CD replay and can act as a versatile digital hub at the same time.
M3scd In Brief
CD player and digital hub
Excellent technical performance
Very good CD readability
Multiple digital inputs - coax, optical and asynchronous USB
Very low jitter
Excellent build quality and convenient size
The free flowing, luxuriant sounds of Summertime are carried especially well by this combo.
HI-FI CHOICE GROUP TEST
M3scd - Specifications
Performance
Jitter: <135 picoseconds peak to peak
Frequency Response: 10Hz to 20 kHz -0.2dB max.
Signal to Noise Ratio: >117dB
THD(+ noise): <0.003% 10Hz to 20 kHz
Linearity: <0.1dB down to -96dB
Channel Separation: 105dB 20 Hz to 20 kHz
Hardware
DAC:24 bit Delta-Sigma (bit stream) dual differential 8x over-sampling
Outputs
1x line level RCA
1x RCA coaxial connector (Digital SPDIF)
1x Toslink optical connector (Digital SPDIF)
1x Trigger output - 3.5mm (1/8") mono jack +12V DC
Inputs
1x RCA coaxial connector SPDIF 32-192 kbps
(16-24 bit stereo PCM)
1x TOSLINK optical connector 32-96 kbps
(16-24 bit stereo PCM)
1x USB type 'B' connector -
Asynchronous data stream at up to 24-bit/96kHz
Trigger in
General
Dimensions - WxHxD (mm): 440 x 100 x 380
Weight (unpacked / packed): 6.05 kg / 9.9 kg