Ultra 5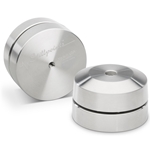 ---
Beskrivelse
Stillpoints Ultra 5 is a larger, more robust version of the Ultra. The Ultra 5 employs five pockets of Stillpoints technology per unit for maximum stability and vibration reduction. This is a massive improvement and provides a drastic increase in the level of isolation. One of the most sophisticated vibration control devices ever produced, the Ultra 5's inner pockets convert vibrations into energy, which is then released as heat, providing your system with consistent improvements in clarity, articulation, and soundstaging. Backgrounds become blacker, individual musical elements become more defined, and your overall musical experience becomes more enveloping. Once you hear what Ultra 5 can do for one component, you'll want them under all of your equipment - and the results will be even better.
"The increase in resolution was mind-boggling. I'm not talking about hi-fi resolution or the presentation becoming more forward or etched, but rather that about hearing much more musical information. Although the presentation was more detailed and resolved, it also had greater ease - qualities that are usually mutually exclusive. The combination of ease is a recipe for musical involvement, as ease fosters a relaxation that makes you more receptive to nuances of expression."
– Robert Harley, The Absolute Sound
Each Ultra 5 measures 2.25" high by 3" wide.
---
Spesifikasjoner
The best Stillpoint for floor standing loudspeakers.
| | |
| --- | --- |
| DIMENSIONS: | |
| Height | 1.84" |
| Diameter: | Minimum 1.74" to Maximum 2.97" |
| | |
| WEIGHT (per unit): | 3lbs |
THE STILLPOINTS DIFFERENCE
Damping: a decrease in the amplitude of an oscillation as a result of energy being drained from the system to overcome frictional or resistive forces.

Isolation: The act of isolating. The quality or condition of being isolated.

Isolate: to cause to be alone or apart

If you have a device that has direct contact from top to bottom, (12 o'clock to 6 o'clock) like single bearing devices, no matter what the materials used, it is damping -- not isolating.
True isolation does not have a direct path between surfaces. Stillpoints patented technology stacks bearings such that there is no direct contact between the component and the surface upon which it rests.

Human hearing is generally considered to be 20Hz-20kHz. With electronics, Stillpoints' technology effectively functions over 20kHz. Typical damping products operate below 20kHz; thus shifting tonality. Despite this tonal shift, Stillpoints can easily be used with damping products to great success.

The materials used in Stillpoints are ceramics and stainless steel. They will last many lifetimes. What other product, from any industry, has the same permanence?
After a very short break-in period, the Stillpoints filter performs without change or degradation.

Considering the amount of performance and pleasure derived from a Stillpoint over time they are a unique bargain.