Mini Ultra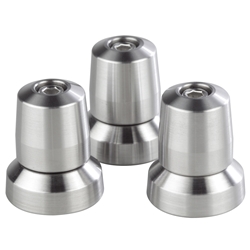 Pris: 1550 stk (sort 1700)
---
Beskrivelse
Stillpoints Mini Ultra Isolation Feet
Stillpoints Mini Ultra Isolation Feet Offer More Bearings for More Effective Vibration Control
Stillpoints Ultra Minis feature four full tiers of ball bearings that act as a filter system to reduce the transfer of vibration.
TheUltra Minis dramatically reduce the negative effects of outside vibration and resonance.
These newly designed devices, the baby brothers to The Absolute Sound Golden Ear Award-winning Ultra Risers, will deliver improvements like a greater sense of space around instruments and voices, low-level detail retrieval, and microdynamic shadings.
The Ultras (both Minis and SS) are really dangerous: hear them once and you'll be addicted. They are so effective that other such accessories, even products that are akin to the Stillpoints principle, such as Finite Elemente Ceraballs, pale by comparison. Such is the added agility, resolution and subtlety, that Ceraballs sound comparatively dark and dull. Of these two versions, ultimately, the Ultra SS is my favourite, for its more complete, fuller, more visceral sound and wider soundstage but the Ultra Mini comes remarkably close and given their relatively modest price it should definitely be on your short list.
---
Spesifikasjoner
Our entry level Ultra filter. All of the technology, just reduced to the smallest package.
| | |
| --- | --- |
| DIMENSIONS: | |
| Height | Minimum 1.16" to Maximum 1.34" |
| Diameter: | Minimum 0.74" to Maximum 0.95" |
| | |
| WEIGHT (per unit): | 2.24oz |
As fortunate as I am to enjoy the considerable benefits of ESS racks and Ultra 5s on a daily basis,
I can't help feeling that the real jewel in the Stillpoints crown is actually the Ultra Mini.
This diminutive but perfectly formed coupler offers genuine Stillpoints performance at a price point that none of the competition can match.
As such, it gives a whole range of budget-conscious audiophiles the opportunity to realize that not only are their comparatively modest systems a whole lot better than they thought they were, but that their upgrade strategy probably needs some serious revision. If you are aiming to build a skyscraper, you had better have a solid set of foundations, and that's exactly what Stillpoints offer.
AUDIO BEAT