TA-1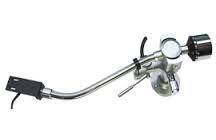 Produsent: ABIS
Pris: 13900
---
Beskrivelse
Japansk håndlaget tonearm i toppklasse, armen er medium til tung så den kan også brukes på forholdsvis lavcompliante pickuper med meget godt resultat.
Topp byggekvalitet og finish.
The major key to tonearm quality is the sensitivity and stability in retrieving delicate signals, for which the bearings are the determining factor.
The TA-1 employs a miniature radial bearing for horizontal movement and a miniature pivot bearing for vertical movement. Very high performance is achieved at a reasonable price.
* The body is constructed from a machine-tooled solid aluminum block.
* The hand-assembled arm wand satisfies every vital condition necessary for vibration-free and noise-free reproduction.
* Reproduced sound is precise and clean, thanks to hand assembly by highly skilled craftsmen.
* Comes with detachable headshell, phono cable (RCA output plug, or optionally as XLR), screws, washers, wrench and marking pin.
---
Spesifikasjoner
| | |
| --- | --- |
| Length: | 305mm |
| Spindle center to arm pivot distance: | 216mm |
| Stylus to pivot distance: | 232mm |
| Overhang: | 16mm |
| Cartridge weight: | 15-29 grams, including headshell |
| Net weight: | 580g (with headshell attached: 597g) |