A4 MKII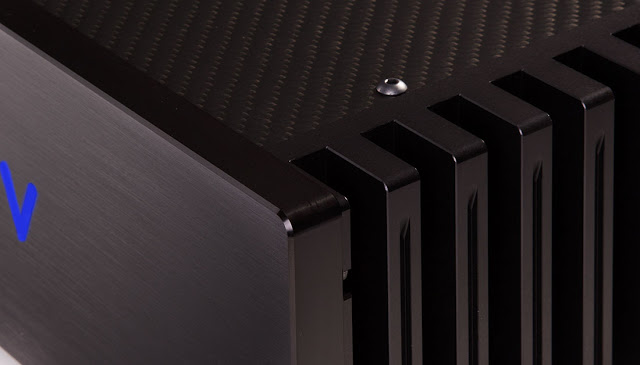 ---
Beskrivelse
VALVET blocks A4 Mk.II mono-blocks
The A4 Mk.II are the successor and new improved and latest version of the renowned A3.5 mono-blocks!

The Mk.II version of these amazing mono-blocks has been much improved. 33% stronger transformers (now 2 times 400 watts), new audiophile resistors and silver wiring with real cotton isolation elevate these close to the performance of Valvet's top-line mono-blocks, the A4e... and all this while still maintaining Valvet's small footprints.
Power and competence
The VALVET A4 Mk.II monoblocks are the successors of the award-winning VALVET A3.5 monoblocks and currently the most potent power amplifiers in our line-up. Again, long term satisfaction, real value and reliability are key values. Those who own these power amplifiers can put any worries about amplification to one side for a very long time! What the A4 Mk.II conveys in terms of musical information is simply breathtaking! We encourage you to compare them to the top brands and then decide which delivery gives you the greater pleasure.

Performance and dynamic
The A4 Mk.II amplifiers are extremely quick, controlled and powerful. They don't force themselves onto the music, but rather support its flow and the listener's involvement. The A4 Mk.II monoblocks have an output of more than 90 watts per channel into 4 ohms (55 watts into 8 ohms). This is a very conservative measurement, as with all VALVET amplifiers. We believe that you will not feel the need for more power for a long time.
The A4 Mk.II power amplifiers, in common with all other VALVET amplifiers, have an extremely stable power supply which gives them an excellent ability to deliver current, thus keeping even the most difficult speakers on the market on a tight leash. The A4 Mk.II monoblocks operate in Push-Pull pure Class A mode with just a single pair of transistors in the output stage. We believe that the common practice to employ several transistors in parallel required to produce a higher output is detrimental to the sound quality.
A 400 VA toroidal transformer, 8 ultrafast 15A rectifier diodes plus more than 132.000 µF of filter capacitors guarantee excellent performance. No capacitor in the cotton insulated, pure silver wired signal path. "JUST PURE MUSIC!"
The sound is dynamic, neutral, balanced, very musical, powerful with blackness and control in the bass, simply right. 'The power and the glory' - indeed!
VALVET A4 CLASS A MONOBLOCKS
Valvet is a German audio manufacturer specializing in tube preamplifiers and Class A solid-state power amplifiers. Perhaps better known in Europe than the US, the line caught my attention after seeing comments by owners on various forums that the Valvet products are worthy of comparison with the best. I had no luck contacting the company directly but a quick email to their US dealer and importer, the wonderfully helpful Alfred Kainz of highend-electronics, Inc, resulted in the quick shipment of a pair of A4 monoblocks to hear for myself.
Pictures can be deceptive. Think Class A and you would probably – like me – imagine these to be full sized, heavy and awkward to handle. Hold those thoughts. The A4 monoblocks arrived in a single box containing both amps, each one a 9"x12"x5" block of beautifully finished aluminum casework with a gleaming, thick silver anodized faceplate. The round-edged heat sinks on the side won't jab you and actually manage to do something few heatsinks can claim, which is look attractive.
Each monoblock is compact but very solid, with enough heft to warrant using both hands to maneuver it, and a quality to the fit and finish that catches the eye immediately. These components are hand-made in Germany, with a lead time of 3-4 weeks. The signal path is reportedly pure silver wire, and the attention to detail in the casework is obvious. I know, people argue that faceplates and finishes are window dressing but when you spend north of $5k on an amplifier, it's not unreasonable to expect good looks to go with (hopefully) good sound. First impressions here are very positive: the A4s exude high quality.
The monoblocks are specified to provide 55 watts into 8 ohms and 90 watts into 4 ohms, plenty for most people in realistic use. Operating in push-pull, Class A mode with a single pair of output transistors in each amp, Valvet hold that greater numbers of transistors increase output but at a cost to the sonics. The trade-off here is for sound quality over power output. Consequently, some choice of partnering speaker might need to be made – but this is par for the course in selecting any amplification, and who among us really believes power trumps quality?
Obviously, being class A, the amps do heat up so you need to be thoughtful in placement, but they never got so hot in my room that I could not touch them. Accordingly, they also need 20-30 minutes warmup to sound their best, but they do deliver music that is more than okay at initial turn-on. I left the amps on continually for most of the time I had them without a hitch. On turn-on, and for a minute or so after turn-off, the front plate V logo gleams white, the only sign that the amps are (or just were) powered up, since they are totally silent – not a hiss nor hum could be found even with my ears close to the tweeter. In sum, these amps looks great and feel like real thought and effort went into their design.
Putting them to work
I ran the Valvet A4s in my main rig, fed by my SMcAudio VRE-1 preamp and in turn feeding a pair of Von Schweikert VR5 Anni IIs, a relatively benign load, connected via Von Schweikert Audio biwire speaker cables. For a couple of weeks I gave the amps 10 minutes to warm up before listening, and would turn them off every evening. Over time I dropped this routine and left them on permanently, save for various times I was away for much of the day or not likely to be using them for a couple of days. Over three months, the amps operated flawlessly.
If you've tried more than a couple of amps in your system, you might feel that aside from gross differences between tubes and solid state, many contemporary designs sound more similar than different. I generally feel that differences between amps are subtle and less than those I hear between say, phono cartridges, or even DACs. That said, over time even small differences do matter and can certainly impact listener satisfaction.
In recent years I've run a pair of Spectron Musician III monoblocks to great effect with my Vons. The clarity of the resulting sound tending to make other pairings always seem a bit colored in comparison. I value this silent background and the highly resolved nature of the Spectrons, so given the very different nature of the Valvet A4s, I did wonder just how they might compare.
While it's hard to sum up sound in one or two words, I can say that the Valvet A4's hit the most important marks for me from the very outset. Instrumental timbre, cohesion and continuity across the frequency range were as good as I've heard. Strangely, on first listen I was struck by the similar clarity, the almost pure, clean sound of the Valvet mirroring the very qualities that keep pulling me back to the Class D Spectrons. The A4s are certainly clean, clear, and resolving.
Interestingly, these amps did not bowl me over with detail, but seduced me with musicality. With the A4s, Viktor Uzul's cello comes through with such a rich, saturated tone that it captivated me into listening through the whole recording several times in the first week. It was simply gorgeous. Now this is a wonderful isoMike recording that never sounds bad on any rig I've tried, but somehow the Valvet amps get the sound of his cello so right, so natural, that I found it impossible to stop once I sat down to listen. So pleasing is the sound of the Valvets on this recording that my wife even came into the room one weekend to remark how 'lovely' it sounded. That's an interesting word, 'lovely' – but don't confuse loveliness with softening or bloom: the harmonic overtones and slight drag of the bow across string are revealed here in a realistic manner, without gloss, and it's a realism that drew me in again and again.
Adding another instrument to the mix, Towner and Peacock's A Closer View (ECM, 1998) is an atmospheric wonder of classical or 12-string acoustic matched to double bass. On mundane systems, the limitations of just two string instruments can prove tiring for many listeners, but on a great one and with the Valvets partnering the Vons I felt I was in that territory, the textures and tonal strengths of the instruments are alive. Small shifts in hand placement of picking fingers reveal when Towner plays closer to the bridge, and you can almost hear him back off after the intro to the track 'Mingusiana' to allow Peacock to take over, before laying down complex counter rhythm as accompaniment. When the two instrumentalists lock in together on 'Creeper', you can follow each instrument, recognize the multi string chordal work of Towner over the single note bass of Peacock and revel in the talent on display. Transients stop and start with this amp in a way that sounds so much like a real instrument that you might wonder why so few people are aware of this album. Maybe there's just not enough great systems out there to reveal fully what's in this quarter-century old recording.
For vocals, I like to hear Ella, Diane, or Holly. Fitzgerald's old 1961 Verve release Clap Hands has been re-released in various forms over the years. I enjoy a late 1980s Polygram CD version that was recommended on the Steve Hoffman forum as a great sounding release. Ella is in her usual fine form on this, with Herb Ellis and Lou Levy among the backing musicians who deliver an instrumental platform that only exists to elevate Ella's singing, never get in the way. It's an album of standards such as 'Night in Tunisia', 'Stella by Starlight' etc, not particularly challenging, only caressing the ear. And caressed is how I feel when hearing it through the Valvets. The lilt and expressiveness of Ella is revealed beautifully, reminding anyone who needs it that here was a singer of genuine quality.
With the audiophile staple of Temptation by Holly Cole, it's usually hard for me to be impressed. I've heard this album on so many rigs over the years that I use it more to find problems than to enjoy the music. Sometimes a system, for whatever reason, will not quite resolve that low bass as I know it should be heard, or Holly will lack the breathy character of a real woman singing close by, instead being reduced to a studio facsimile that delivers the songs without the realistic presence that does exist on this recording. Not so here. With the A4s, Holly sounds about as real, as present in a real acoustic space, as embodied as I've ever heard. Oh, how it is to feel refreshed by listening to an old familiar that you thought had given you its all for two decades or more. That is what a step up in audio reproduction quality can provide you, what you hope for with a new purchase and what I have come to believe the Valvets are capable of delivering.
Of course, while I love jazz, sometimes I just need to remind myself I'm alive by kicking up the volume a notch and letting some good old heavy rock and roll fill the house. For such moments, it's hard to beat some 1970s Deep Purple. The remastered version of Stormbringer contains some of Purple's funkier moments but it never fails to rock, with Coverdale and Hughes sharing vocals while delivering the most cliched lyrics imaginable. Somehow, this all seems in keeping with the era as the fullness of Lord's Hammond organ runs, the odd finger picking technique of Blackmore on some tracks, and the jazzy punctuation of Paice on drums reminds you of how tight and swinging this band could be. The A4s seem to capture that swagger of a band on top of the world, encouraging a heavy hand on the volume dial while my toes tap and yes, the urge to air guitar wells up in this listener. 'You ready for some rock'n'roll' you might ask? 'Well here you go' the Valvets seem to respond, taking the gauntlet and running with it effortlessly. Yes, 55w is more than enough to rock out when the watts are this good.
Tweaks?
While the Valvet amps spent most of their time on anti-vibration pads on the shelf just to let the heat dissipate easily, I found no discernible audible difference between using a footer or not. Interconnects were a different story. The difference between balanced and single-ended was obvious to my ears and I much preferred the amps through their XLR inputs. Power cords did not seem to matter as much: maybe the differences could be heard by some but once I fed them with my Spectron Thunderbolt cables via an Audience conditioner I keep just for monoblocks, I never felt like exploring further – the sound was great and stayed that way.
Conclusion
With the Valvet monoblocks I found myself enjoying some of the most coherent, balanced sound I've heard in my listening room. Bass notes are present, separate enough from the midrange to allow you to follow instruments easily without ever thinking they were dominant or disproportionate. Midrange is simply magical, with voices, strings and keys reproduced with a level of reality that makes you relax into the music. Upper frequency resolution is not softened as might be anticipated if the amps were to seem 'tube-like' but instead were clean and sufficient to serve musical purpose without drawing unnecessary attention to themselves. In combination, you hear full-bodied, realistic, musical instruments and performers with appropriate dynamic punch and swing.
And this is how I end up feeling about the Valvets. They are so finely balanced and cohesive that you might at first wonder about their unique qualities. They won't immediately catch your ears with detail, but those details are there to be heard; they won't blow you away with unparalleled bass depth, yet the bass is full and realistic; they can deliver space and decay while slamming you with dynamics when required. When you hear them over an extended period of time on music you love, you come to realize there is something quite special about these amplifiers. In their understated manner, small footprint and relatively low power specification, the Valvet A4s are capable of delivering musical reproduction that is as good as I can remember hearing. There was never a recording I played where I felt I was missing something or that the amps were not delivering the goods, and that's across multiple genres and ages of music. Class A all the way.
---
Spesifikasjoner
connection: WBT NextGen & Neutrik XLR sockets, input impedance 50 KOhm, 1 pair WBT NextGen binding posts for speaker connection (bi-wire optional), IEC mains socket
amplification: 55 watts into 8 Ohm, 90 watts into 4 Ohm, Class A
transformer: 400VA each mono-block
filtering: 132,000 µF filtering each mono-block
dimensions: 230 x 110 x 310 mm (9 x 4.4 x 12.2 inches) WxHxD each mono-block
case: Aluminum, black powder coated, heat sink black anodized
front: 12.5mm Aluminum, black powder coated or silver brushed
sound: dynamic, neutral, balanced, very musical, powerful with blackness and control in the bass, simply right. 'The power and the glory' - indeed!