Musical Fidelity Round Table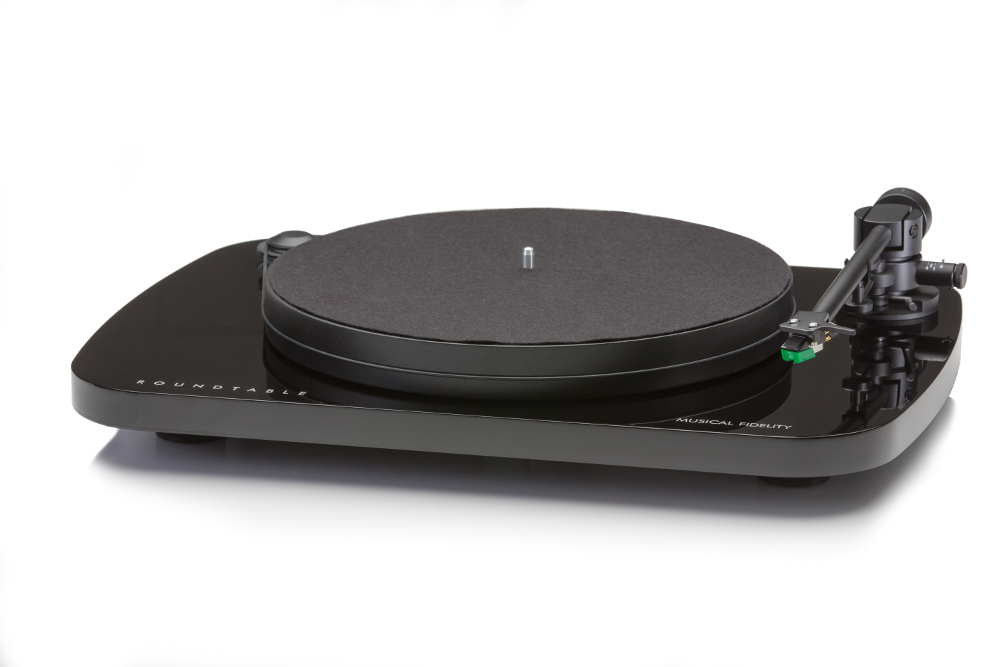 ---
Beskrivelse
ROUNDTABLE Record Player The Round Table is a high quality but competitive turntable solution.
It features a high quality low resonance 9" pickup arm, and magnetic anti skating compensation, and vertical bearings are ABEC7 ball bearings.
These bearings are steel tipped and housed in Zirconium with rubber damping, similar in principle to shock protection used in high quality watches.
Adjustable counter weight, vertical tracking height and magnetic anti-skate mechanism allows different cartridges to be used, as desired.
The Round Table plinth and platter are made from low resonance material and feet have vibration-isolation properties.
The mass of the round table has also been carefully tuned so the centre is located at the bearing location. The unit is supplied mostly assembled and an Audio Technica 95E cartridge has also been factory fitted.
---
Spesifikasjoner
Round Table record player - 7 - Typical specifications
Nominal speed 33/45 rpm, outside belt drive system, manual speed change Speed Variance 33rpm: ± 0.30 %, 45rpm: ± 0.20 % Wow and flutter 33rpm: ± 0.10%, 45rpm: ± 0.09% Signal to noise ratio Mechanical noise: - 39 dB Electrical noise: -65dB Downforce range 0 - 25 mN
Tonearm 9'' straight shape massive aluminium construction Supplied counterweights no. 82, weight 114g (± 1g), for cartridges from 5 to 13 g
Effective tonearm mass 14g Effective tonearm length 230mm (tonearm mounting distance 212mm) Overhang 18mm Power requirement 15V 0.8A (Adaptor supplied) Consumption ​