M3si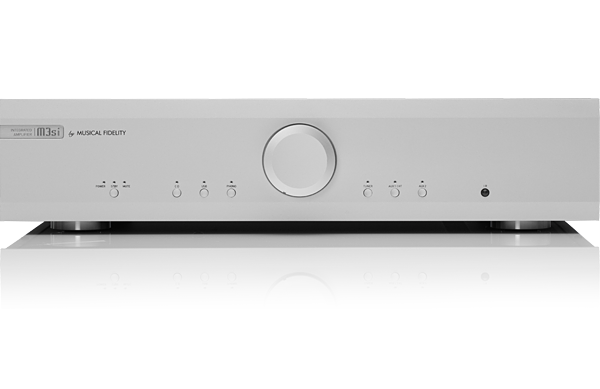 ---
Beskrivelse
M3Si er en god integrert forsterker som låter som om den har mer krefter enn de 85 oppgitte wattene skulle tilsi. Den spiller åpent og presist samtidig som den lar musikken komme til sin rett. Forsterkeren har har også phono input for MM og innebygd DAC som tar imot inntil 24/96 over USB.
The brand-new Musical Fidelity M3si integrated amplifier is a massive upgrade of the older M3 model. The M3si offers increased power, more inputs, and a new dual-mono circuit layout which reduces the noise floor and greatly increases dynamics. The M3si is a true high-end amplifier with sound quality that belies its price. Because its power output has increased significantly, the M3si delivers a wide, stable and deep stereo image with a more realistic portrayal of instruments and voices. More than that, the M3si offers a sweet, rich, and natural level of musicality that sounds effortless with tremendous clarity. The new circuit design delivers much more controlled bottom-end and unmatched transient speed. The bottom-line is that Musical Fidelity has just created the amplifier to beat at this price. 100% Music Direct money back guaranteed!
The M3si offers high quality sound with an extensive range of useful inputs in a compact package with reliability and a fair price. The M3si uses Musical Fidelity's exclusive SMD layout techniques. This reduces the circuit's footprint on the large PCB and greatly increased flexibility with the layout and the ability to add more inputs and, importantly, power amp PSU capacitance.
The M3si delivers a healthy 90 WPC. Distortion at 1 kHz is very low at 0.007%. Even at 10 kHz it is hovering around 0.01%. The M3si's very low HF distortion proves that the layout circuit and circuit design are operating in perfect harmony so that there is low distortion at HF. Signal/noise ratio has been improved by more than 3dB. This is a significant step which allows more music to be heard with a greater dynamic range. Channel separation is excellent.
The MM phono stage has very accurate RIAA equalization, within ± 0.5dB from 20 Hz to 20 kHz. The accuracy is maintained out to 50 kHz. Noise ratio is an outstanding 88dB down. Distortion is less than 0.3%.
The 24-bit/96kHz asynchronous USB input uses exactly the same circuitry and technology as the highly regarded V-Links and other top quality computer interfaces. Jitter is virtually eliminated. Noise is incredibly low and distortion virtually non-existent. The M3si's USB input is capable of dredging the finest details from the computer source.
---
Spesifikasjoner
Amplifier
Power output: 85 Watts per channel into 8 Ohms
THD(+ noise): <0.014 % typical, 20Hz to 20 kHz
Signal to Noise Ratio: >98dB 'A'-weighted
Frequency Response: +0, –0.1dB, 10Hz to 20 kHz
Inputs
4x Line Level RCA / Phono
1x USB type 'B' connector - Asynchronous data stream at up to 24-bit/96kHz
1x MM Phono input
Phono Input
Sensitivity (nominal): 3mV (suitable for cartridges giving 1.5mV or more including high output MC types)
Signal / noise ratio: >70dB 'A'-weighted
Input impedance: 50k Ohms
Frequency response: RIAA/IEC ±1dB, 20Hz to 20 kHz
General
Dimensions - WxHxD (mm): 440 x 100 x 400
Weight (unpacked / packed): 9.2 kg/ 13 kg