Graham Slee Jazz club riaa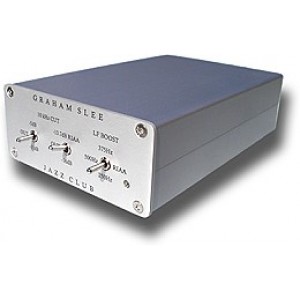 Tilstand: Brukt
Pris: 7500 (10500)
---
Beskrivelse
Restore The Glory and Tonal Balance of All Your Records, Old and New

Finally a Phono Preamp for ALL of Your Records!

Graham Slee's Jazz Club phono preamplifier provides the highest fidelity reproduction of of older records and modern RIAA recordings. Using circuitry derived from the magical Era Gold Mk V phono preamp, the Jazz Club assures supreme musicality with records old and new.
"I couldn't believe the presence in Ella's voice, or the lack of noise from the old shellac when heard through the Jazz Club"
-- Michael Fremer, Stereophile
Since then the Jazz Club has continued as a Stereophile Recommended Component, a venerable currency it still holds today. The Jazz Club has garnered recommendations from other publications as well. Gramophone Magazine's Caroline Osborne confirmed the Jazz Club's exceptional properties. Smoother, more open, lower surface noise, better tonal depth, clarity and instrumental separation (even with mono records!). And to cap it all, it sounded better than CDs of the same session!
"LPs via the Jazz Club were the clear winner. This is a fine phono stage indeed."
-- Caroline Osborne, Gramophone
When broadcasters, archivists and record playing end-users dub old records onto digital media or tape, they frequently use any old RIAA phono stage and then pass the signal through a graphic equalizer or digital equivalent and a de-clicking device. Most of the signal manipulation is done by ear and is therefore not exactly true to the original. Passing through so many stages is also the wrong way to preserve the feel, content and clarity of the music.
The Jazz Club vinyl and 78 RPM restoration phono preamplifier is primarily an exceptional phono preamplifier on which virtually all of the known equalization characteristics can be selected, equalizing the music accurately and in one go so as not to lose aby valuable information. The Jazz Club is based on the miraculous Era Gold Mk V phono preamp. In fact, the Jazz Club is an Era Gold with the addition of a switchable equalization (EQ) board with 15 EQ pre-sets and a different casing and panel. Its use of a very fast circuit also has the property that de-accentuates clicks and pops and thus de-clicking can be left out altogether.
Each Jazz Club is an individual work of precision and art. Each is hand built and the finished product is tested by the designer himself to ensure that it meets his exacting specification and performance standard.
The Jazz Club vinyl and 78 RPM restoration phono preamp is supplied with the PSU1 outboard power supply with a 2-pin American plug for 110-120V operation. The PSU1 is included in the price.
By varying the positions of the two front panel switches, the Jazz Club may be made to restore the tonal balance of the labels tabulated below.
Nominal Input sensitivity: 4mV RMS
Maximum input: 45mV RMS
Nominal output: 472 mV RMS
Maximum output: 5.3 V RMS
Gain: 41.5 dB (suitable for MM or High Output MC Cartridges)
Input resistance: 47 kOhms
Input capacitance: 100 pF
Output will drive: 600 Ohms
Noise: -68 dB CCIR q-pk 20Hz - 20kHz
Distortion: 0.02%
RIAA accuracy: 0.5 dB
Frequency response: 5Hz - 150kHz
Channel balance: 0.2 dB
Channel separation: 64 dB
Case Size(HWD): 2"x5"x7"
Weight: 3Lbs approx with PSU1 Power Supply
EQ the sound of 78s and early non-RIAA vinyl records
Easily switches from stereo to mono (rear mounted switch)
Era Gold V performance when switched to RIAA
For moving magnet and high-output moving coil cartridges
Reduced record noise due to low latency (fast) EQ components
"Ultra-Linear tube-like" sound quality
Use it with our Elevator EXP for low output moving coil catridge