Stillpoints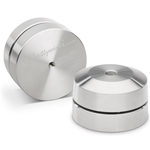 Tilstand: Demo
Pris: -25%
---
Beskrivelse
Selger noen demoprodukter av Stillpoints som jeg har til overs til 25% rabatt, førstemann til mølla.
8 stk - Ultra 5 kr 8700 -25% pris kr 6525 kr stk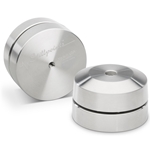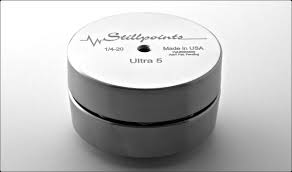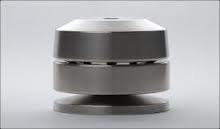 ---
Beskrivelse
Stillpoints Ultra 5 is a larger, more robust version of the Ultra. The Ultra 5 employs five pockets of Stillpoints technology per unit for maximum stability and vibration reduction. This is a massive improvement and provides a drastic increase in the level of isolation. One of the most sophisticated vibration control devices ever produced, the Ultra 5's inner pockets convert vibrations into energy, which is then released as heat, providing your system with consistent improvements in clarity, articulation, and soundstaging. Backgrounds become blacker, individual musical elements become more defined, and your overall musical experience becomes more enveloping. Once you hear what Ultra 5 can do for one component, you'll want them under all of your equipment - and the results will be even better.
"The increase in resolution was mind-boggling. I'm not talking about hi-fi resolution or the presentation becoming more forward or etched, but rather that about hearing much more musical information. Although the presentation was more detailed and resolved, it also had greater ease - qualities that are usually mutually exclusive. The combination of ease is a recipe for musical involvement, as ease fosters a relaxation that makes you more receptive to nuances of expression."
– Robert Harley, The Absolute Sound
Each Ultra 5 measures 2.25" high by 3" wide.
---
Spesifikasjoner
The best Stillpoint for floor standing loudspeakers.
| | |
| --- | --- |
| DIMENSIONS: | |
| Height | 1.84" |
| Diameter: | Minimum 1.74" to Maximum 2.97" |
| | |
| WEIGHT (per unit): | 3lbs |
THE STILLPOINTS DIFFERENCE
Damping: a decrease in the amplitude of an oscillation as a result of energy being drained from the system to overcome frictional or resistive forces.

Isolation: The act of isolating. The quality or condition of being isolated.

Isolate: to cause to be alone or apart

If you have a device that has direct contact from top to bottom, (12 o'clock to 6 o'clock) like single bearing devices, no matter what the materials used, it is damping -- not isolating.
True isolation does not have a direct path between surfaces. Stillpoints patented technology stacks bearings such that there is no direct contact between the component and the surface upon which it rests.

Human hearing is generally considered to be 20Hz-20kHz. With electronics, Stillpoints' technology effectively functions over 20kHz. Typical damping products operate below 20kHz; thus shifting tonality. Despite this tonal shift, Stillpoints can easily be used with damping products to great success.

The materials used in Stillpoints are ceramics and stainless steel. They will last many lifetimes. What other product, from any industry, has the same permanence?
After a very short break-in period, the Stillpoints filter performs without change or degradation.

Considering the amount of performance and pleasure derived from a Stillpoint over time they are a unique bargain.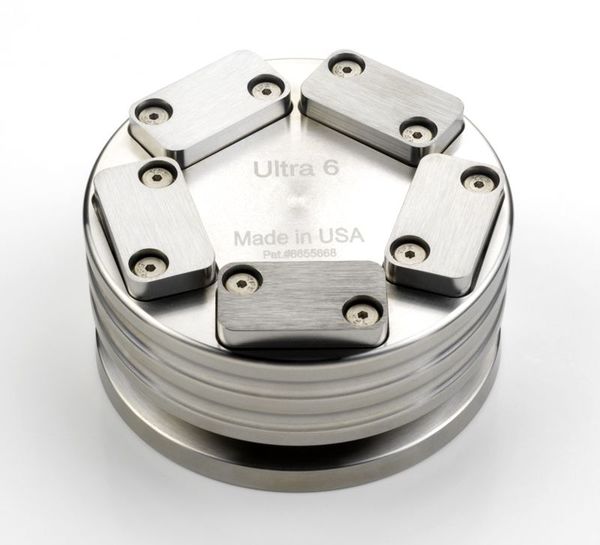 ---
Beskrivelse
Stillpints mest avanserte og beste produkt til all elektronikk, kan brukes med eller uten base , bygges mindre enn Ultra 5.
The Most State-of-the-Art Isolation Device Available: Product of the Year Award-Winning Stillpoints Ultra 6 Isolation Feet Dramatically Enhance Clarity, Articulation, Soundstaging
Once you experience what a set of Stillpoints Ultra 6 isolation feet does for your audio and video gear, you won't be surprised that this reference vibration-control product won The Absolute Sound's Product of the Year Award. Specifically designed to provide unprecedented isolation for electronic components as well as loudspeaker stands, the height- and diameter-adjustable Ultra 6 is the largest and most sophisticated such device we offer. The first Ultra Series product that uses technology pockets on opposing sides of the isolator, they're available with or without bases and truly represent the state-of-the-art in their field. Made in the U.S.A., Ultra 6 nets consistent improvements in clarity, articulation, and soundstaging that make musical nuances more involving. You can also attach them to a Stillpoints ESS rack, place them between a satellite speaker and subwoofer, or affix them to a loudspeaker stand. Put a set to the test. 100% Music Direct Guaranteed.
"The Ultra 6 isolation footer is a state-of-the-art isolation device…it does suggest that vibrations obscure more –much more– of the audio signal than many audiophiles realize."
- Jacob Heilbrunn, The Absolute Sound, Product of the Year Award

"Personally I have found them completely invaluable in closing the gap between the system, the music, and the listener. Highly recommended."
—Chris Thomas, Hi-Fi+
"Each time I inserted the Ultra 6s I discerned a settling effect, like a placid ocean after a storm. The loudspeakers seemed to disappear a little more; instruments became more palpable and detached from each other; and the bass was more powerful and richer. And the blackness of the backgrounds. Oh, my!" - The Absolute Sound
"The Stillpoints make a huge improvement on the JBL Everests that I put them under. Wow. It's on a suspended floor, and bass is so much cleaner and the speakers interact far less with the room." - Jay H.
Introducing the newest addition to the Stillpoints Ultra series. The Ultra 6 is the first Ultra product to use technology pockets on opposing sides of the isolator. The patented vibration absorbing & damping technology from Stillpoints reduces distortion borne from mechanical vibration. Granted, your system must be at a fairly high level of performance before one can realize the full benefits of the Stillpoints Ultra 6. Be sure you've fine tuned your audio system with audiophile cabling, power conditioning, proper speaker placement and of course room acoustics.
---
Spesifikasjoner
| | |
| --- | --- |
| DIMENSIONS: | |
| Height | Minimum 1.60" to Maximum 1.92" |
| Diameter: | Minimum 2.97" to Maximum 2.97" |
| | |
| WEIGHT (per unit): | 1lb 10oz |