MSB Power dac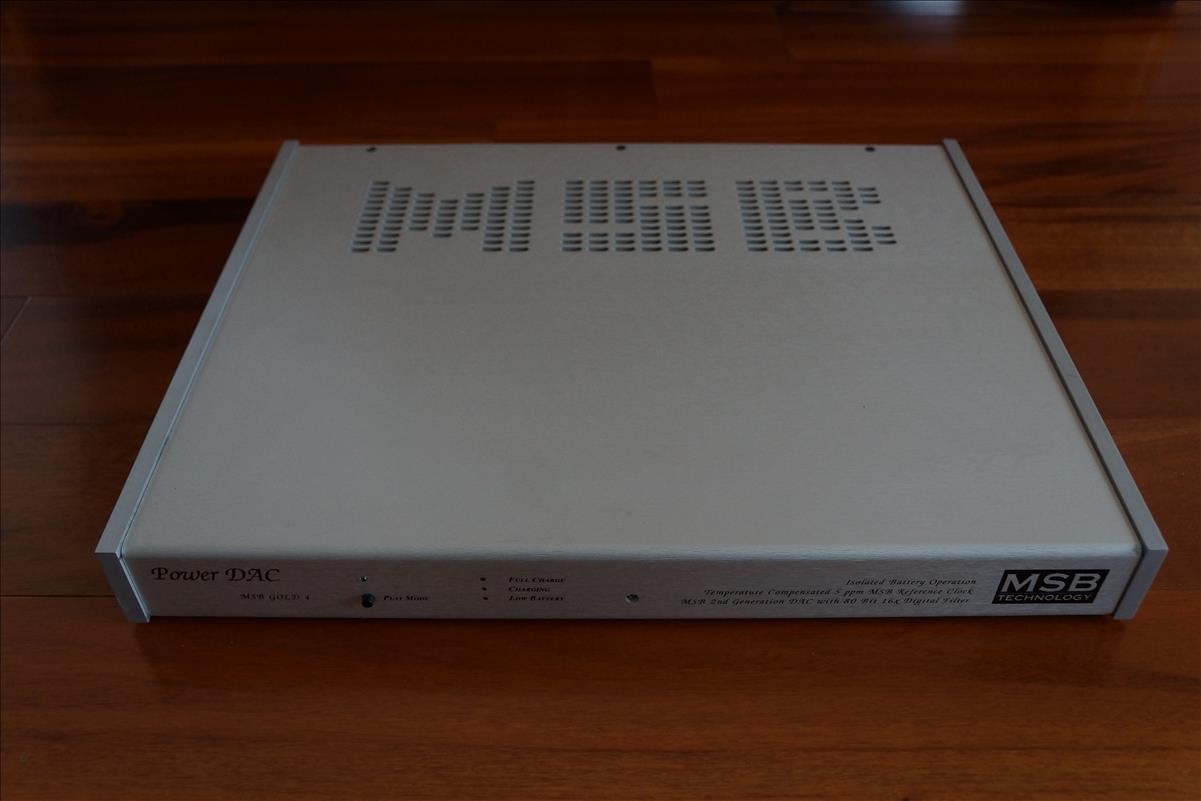 Tilstand: Brukt
Pris: 16000
---
Beskrivelse
Power dac er fra den forrige generasjon av MSB produkter og har batteri/strøm powersupply integrert.
Ladder dac med alle innganger - toslink - spdif-AES/EBU- USB.
XLR og RCA utganger.
Har vært hos en eier i rundt 6-7 år og kostet rett i underkant av 50000 ny.
Denne har også innebygget volum (analogt volum- ikke digitalt).
Fortsatt en meget god DAC som vil gi mange år med musikkglede.
Byttet nye batterier.
"The more you listen to it, the more you love it. This DAC seduced us with its two faces of musical reproduction: exceptional analysis capability and a warm and natural analog sense of music. The USB Power DAC knows how to make the emotion come true so very easily that we recommend it to any audiophile still reluctant with digital. "
The USB Power DAC - The Perfect Server Companion
The Power DAC has proven to be a reliable and solid product with unprecedented performance value. It is a very high performance DAC with sound quality similar to the Platinum DACs but with no user features. It runs for many hours on internal batteries with an external charger. It has no front panel controls, and no remote. A single digital input of each type is available with auto switching. The DACs are not modular so it does not accept Signature DACs. So what does it do? It gives you great sound at a great price with all the performance you expect from an MSB product. And because is runs on batteries, it is particularly well suited to working with computer servers.
It's what's Inside that Counts
The USB Power DAC is the first MSB DAC to come stock with a USB input. Computers are very electrically noisy products and extreme care must be taken to decouple the sensitive audio DAC from the USB input. MSB has done a fantastic job making this input as good as any other. Whatever your PC or music server, you should be able to attach it to this DAC with amazing results. How DACs Work! A simple but accurate explanation.
High Resolution 192 kHz USB!
The USB DAC comes with a USB 2 input cabible of playing files up to 192 kHz from your computer. This breakthrough USB technology provides bit-perfect playback from the MAC or PC platform.
And on top of all that, an optional volume control
The Power DAC can now be ordered with an optional internal volume control. This extremely precise and neutral volume control uses the standard MSB remote that also works with MSB CD players. Give yourself complete control. This is not a digital volume control as found on low-end products but a proprietary MSB breakthrough, with amazing clarity and resolution even at low levels.

Power DAC Specifications
Inputs:
USB, Coaxial, Toslink, Balanced AES/EBU, MSB Network (192k)
RCA Outputs:
3.6V RMS (10V pp)
Balanced Outputs:
7.5V RMS (20V pp)
Output Impedance:
50 ohms at 0 dB
Sampling Frequency:
1.5 MHz up to 3 MHz
Digital Filter:
16x Digital Filter by MSB Technology
Slew Rate:
>2500 V/Microsecond
Settling Time:
<90 Nanoseconds
Dynamic Range:
136 dB A Measured
Noise Floor:
<-145 dB
THD+N:
.002
Signal to Noise Ratio:
140 dB
Channel Separation:
>130 dB
Master Clock:
+/- 2.5 ppm jitter
Control Features:
Option toggle on back
Software Updates

Volume Control
Optional Feature
with remote