Riaa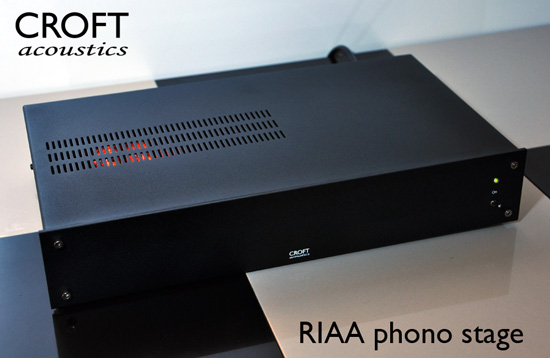 Produsent: Croft
Pris: 6800
---
Beskrivelse
Crofts rimeligste riaa har i mange år vært referansen for hva som er mulig å få av ut av en rimelig platespillerkombinasjon og er en av de mest solgte rør riaa ene i UK.
Denne riaa en vil ikke bli det svakeste leddet før du er oppe i en ganske dyr platespiller kombinasjon, og trenger du MC del har vi god erfaring med trafo til denne.
The Croft Acoustics RIAA is finally available for those audiophiles wanting to capture that Croft magic for their vinyl playback.

Based on the Micro 25 preamp, the Croft RIAA features a pair of 12AX7 tubes (1.7 mV sensitivity) for bringing any high-output phono cartridge to life.

With an organic sound quality that not only captures the essence of dynamics and timing, but projects a vivid image as well, this one has us all reconsidering the virtues of simplicity. Highly recommended.
---
Spesifikasjoner
Dimensions: W - 405mm D - 270 mm H - 70mm
Valve compliment: 2 x ECC83
Weight: 3 kg
Frequency Response: 20 Hz - 20 kHz +/- 0.5 dB
Sensitivity: 2 mV for 0.5 V rms o/p
Input Impedance: 47 kΩ
Power Consumption: 13 W