Musicmaster mk III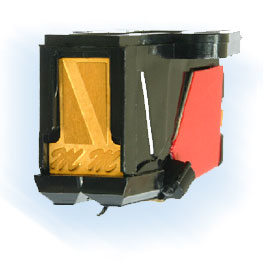 ---
Beskrivelse
The MusicMaster cartridge is the product of a steady programme of refinement, it has taken approximately fifteen years of development to create the Mk III version.
We have now moved on and made a rather dramatic change;
enter the MusicMaster which takes us another step closer to the original performance.
Instead of the high purity copper coils used in the Mk III we have substituted very pure silver (99.99%) coils and incorporated other changes; the result is a major step forward in analogue viny replay.
In my review of The Cartridge Man MusicMaker Classic a dozen years ago, I concluded that it was a masterpiece of phono cartridge design. Considering the improvement the new MusicMaster delivers over the classic Classic, perhaps Gregory should be more correctly called a Grand Master. Certainly his cartridges reveal the hand of an artist over that of a craftsman/technician. Since all The Cartridge Man phono cartridges are hand-built, older MusicMakers can be re-built and brought up to MusicMaster spec. Purchasing a new MusicMaster off the shelf might require a slight wait, as demand has been very high.
The Cartridge Man MusicMaster is a true "ultra" cartridge in every sense of the word. As a tool for unleashing the art in all great music I find it unequalled. I would like to publicly thank Leonard Gregory for his magnificent service to all music lovers. I can only give it the ultimate recommendation.
---
Spesifikasjoner
Variable-reluctance stereo phono cartridge with line-contact stylus and silver coils.
Output: 4.0 mV output
Loading: 47K ohms (not capacitance sensitive.)
Tracking Force: 1.6 grams.
VTA/SRA Alignment: Front face of cartridge perpendicular to record surface (viewed from the side).