22.05.2016
HANA Pickuper.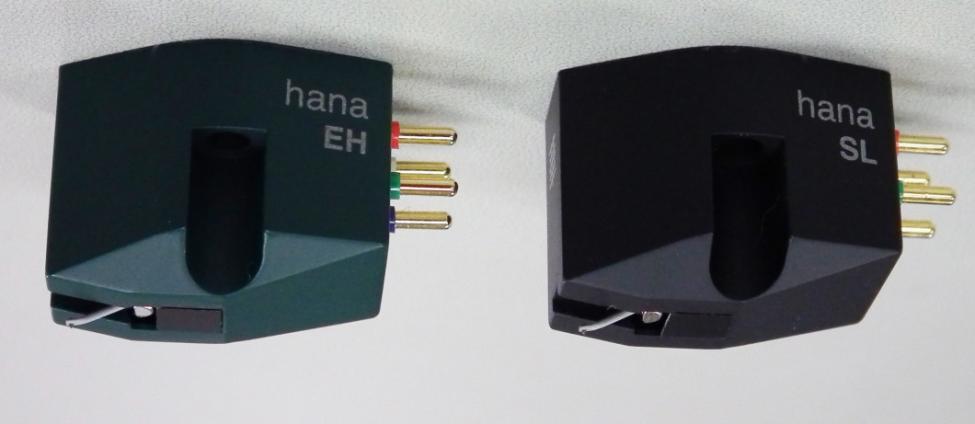 Håndlagte pickuper fra Japansk produsent som har 50 års erfaring med å lage OEM pickuper for mange kjente merker som gir de en unik kunnskap.
Nå lager de sine egne pickuper.
HANA


Vi har alltid hatt analogt som hovedfokus og fortsetter å øke utvalget av analogt og introduserer en ny linje av pickuper fra Japan (eller hana, som betyr "brilliant and gorgeous" på Japansk).
Disse er håndlaget i Japan av ESC som i 50 år har laget OEM pickuper for mange kjente merker- nå har de laget sine egne med supert resultat.
4 pickuper er nå tilgjengelig, 2 High output MC og 2 low output MC.
Disse får nå mye omtale og veldig gode tilbakemeldinger og tester over hele verden og er kjent for å gi veldig mye for pengene.

EH og EL vil være en meget god pickup for oppgradering av mange av de pickupene som er med på f eks Project, Rega og lignende og for dere som vil få mere ut av en god platespiller.

SH og SL vil være en oppgradering også godt utover den prisen som disse har og vi kjører disse selv på ganske dyre spiller oppsett med glimrende resultat, f eks en Analogue Works model one med the wand tonearm.

Ta kontakt for levering og sammensetning med andre spillere, vi kan også montere på nye spillere hvis dere handler hos oss, for eksempel Project. Se også spillere som Analogue Works og Acoustic Signature (kommer).


HANA EH og EL koster kr 3950 ( eliptisk slipning)
HANA SH og SL koster kr 6200 ( shibata slipning)

HANA Phono Cartridges use high rigidity aluminum cantilevers, and cross-shaped armatures, providing you with brilliant and gorgeous sound.
These Hana MC cartridges come with two different stylus designs. The high-performance Hana S range - "SH" and "SL" cartridges use a nude natural diamond Shibata-stylus, capable of excellent high frequency response, giving supreme transparency and excellent trackability.
The S-range cartridge comes in two output options offering either High output 2.0mV/1KHz (SH) or Low output 0.5mV/1KHz (SL).
The lower-cost E-range "EH" and "EL" cartridges (and the same two High- and Low-output options as the "S" range) come with a synthetic Elliptical diamond stylus, but nonetheless offer a highly competitive quality sound, referenced against similar-priced cartridges.
Hana cartridges are produced by Excel Sound Corporation of Tokyo Japan, an established 50-year old company.
In 2015 they finally launched their own brand range of cartridges called "Hana" - ?.
ESC pride themselves on their manufacturing quality and quality controls at every stage, ensuring that their hand-made cartridges offer consistently perfect results.


Spesifikasjoner



Hana EH Elliptical tip high output
Hana EL Elliptical tip low output
Hana SH Shibata tip high output
Hana SL Shibata tip low output
The Hana Series has been developed with significance placed on easy use and set-up, as well as high performance reproduction. Hana's high output versions, EH and SH, supply 2mV output, so that they can be directly connected to MM phono input for vinyl reproduction.
Features:
Highly rigid aluminium cantilever assembled with crossed armatures to reproduce dynamic sound. Hana SL and Hana SH models employ Shibata stylus famed for excellent high frequency reproduction, superb tracking, and low distortion.



| | | | | |
| --- | --- | --- | --- | --- |
| Model | HANA-EH | HANA-EL | HANA-SH | HANA-SL |
| Stylus Profile | Elliptical | Elliptical | Natural Diamond Shibata | Natural Diamond Shibata |
| Cantilever | Aluminum | Aluminum | Aluminum | Aluminum |
| Output level at 1KHz | 2mv | 0.5mv | 2mv | 0.5mv |
| Output balance at 1KHz | <2dB | <2dB | <1.5dB | <1.5dB |
| Vertical Tracking force | 2gr | 2gr | 2gr | 2gr |
| Trackability | 70μm/2gr | 70μm/2gr | 70μm/2gr | 70μm/2gr |
| Separation at 1KHz | 25dB | 25dB | 28dB | 28dB |
| Frequency response | 15-25,000Hz | 15-25,000Hz | 15-32,000Hz | 15-32,000Hz |
| Impedance at 1KHz | 130Ω | 30Ω | 130Ω | 30Ω |
| Suggested load | 47KΩ | >400Ω | 47KΩ | >400Ω |
| Cartridge weight | 5gr | 5gr | 5gr | 5gr |
| Body Color | Moss Green | Moss Green | Black | Black |