Acoustic Signature Mannfred MK II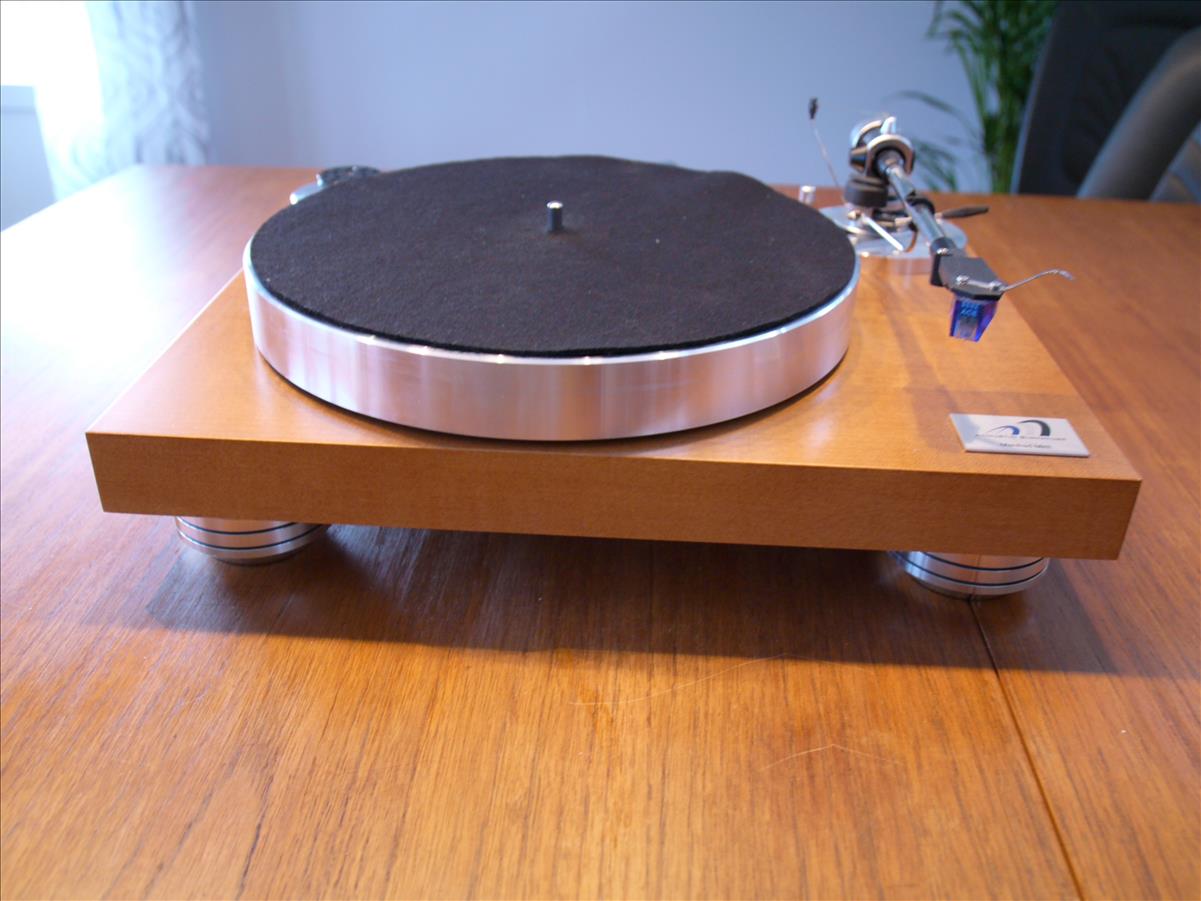 Tilstand: Brukt
Pris: 12000.
---
Beskrivelse
Lite brukt Acoustic Signature platespiller uten arm.
Nypris er kr 24990.
ACOUSTIC SIGNATURE MANFRED MK2
The Manfred Mk2
The Manfred Mk2 turntable is manufactured using a choice of sumptuous real wood veneers, something you would expect on a high end speaker system rather than an entry level turntable, or painted high gloss piano black or white.
The solid wooden plinth carries the substantial high mass turntable platter bearing housing and tone arm mounting plate.
The turntable motor unit is remotely sited, close to the plinth, and is the same motor as is used in our high end turntables, powered from our Alpha-S regenerative power supply unit.
The Design
More ways to amaze. The Manfred Mk2 is a consequent classic Design to achieve best music reproduction. It's all combined with the award-winning performance, elegance, convenience and comfort that have made the Acoustic Signature Series so successful.
The substantial one piece 38mm thick CNC milled MDF chassis forms the attractively designed base unit of this turntable, within which the motor and motor electronics are housed, along with the lower bearing housing and tone arm mount.
Get ready to experience the Manfred Mk2 – now perfectly suited to your own unique style. Perfect surface quality combined with the latest technology and flexibility.
The drive System
At the new Manfred Mk2 we combine a 38mm high density wooden plate covered with a sumptuous real wood veneers. The alternative available piano finish is extremely perfect made and only to find in expensive piano's. This is a perfect fit for the Tidorfolon bearing holding the platter and the exchangeable arm boards.
A new Alpha-S motor Electronic provides perfect speed stability and easy operation. The carefully made Aluminum platter is another part which makes the sound of a Manfred Mk2 so outstanding for his price class.
The Platter
The Manfred Mk2 comes with a precisely manufactured Aluminum platter. He is produced out of a solid piece of soft Aluminum to improve his resonance behavior. The platter is additionally coated on the back side with a high damping material to get great results.
The thickness of 34mm gives him a weight of 6.4 kilogram. This high weight in combination with the smooth running Tidorfolon bearing is one unique reason of the great music experience the Manfred Mk2 provides.
The Motor
We at Acoustic Signature believe that a motor system for a turntable should have enough energy to speed up the platter but not influence him during rotation. We reach that aim by using a European made Synchronous motor with our own Alpha-S State of the Art motor control.
This engine system is absolute stable in his rotation speed and in combination with the digital control easy to use and reliable.
The Bearing
The platter bearing is the heart of every turntable and Acoustic Signature have invented a bearing with the ideal performance characteristics of exact fit, extremely low noise, very low friction and long term stability. The platter bearing axle is manufactured from special hardened and precisely grinded steel.
The bearing housing uses perfectly matched sinter bronze inserts which are self-lubricating. Our bearing design is developed to ensure a smooth run and tight fit of the axle. We achieve this by using Sinter bushes and our Tidorfolon bearing ground. Here we have ultra-tight tolerances and our Tidorfolon bearing is lifetime maintenance free. We trust in this Bearing so it´s covered with a 10 year product warranty.
The Manfred MK2 is available in maple, cherry or piano black or white.
And why is this turntable is named Manfred?
Acoustic Signature are honoring Manfred Frohnhöfer the owners Father, who sadly died in February 2007. He was an inspiration and always helped the company in every way, was always helpful in finding solutions to develop and build the company and the products, and will never be forgotten.
» Tekniske data
Drive unit 1 Synchronius motor, electronically regulated fully mains decoupled adjustable,small Alpha Motor electronic, external power supply
Bearing high precision TIDORFOLON Bearing rollerbushed and paired with axle.
Chassis real wood verneer 38mm Chassis, 3 height adjustable feets, external motor
Platter high precison platter made of aluminium, 34mm height. 6kg weight.
Speed Range 33 1/3 RPM, 45 UPM with motor electronic.
Power Supply 230 Volt or 115V
Dimension 430b x 170h x 340d mm, 16kg.
SME SERIES M2-9
The Series M2 embraces three models the M2-9, M2-10 and M2-12 offering pivot-stylus dimensions covering virtually all turntable requirements.
These arms offer at reasonable cost, meticulous build quality with all the most important features including lightweight stainless steel tonearm, detachable magnesium headshell with azimuth adjustment, tungsten balance weight, superb quality ball race bearings etc., and a level of stiffness and rigidity to suit all types of cartridge.
These precision pick-up arms embody well tried SME principles and are suited to a broad range of cartridges including those of medium and low compliance.
The M2 shell is pressure die-cast in magnesium for lightness and rigidity.
Series M2-9 is the standard arm having a pivot-stylus dimension of 233.2 mm (9.18") and will therefore be the one most frequently used.
Series M2-10 is identical except that the pivot-stylus dimension is 239.3 mm (9.42") a difference that suits the layout of some decks.
Series M2-12 has a pivot-stylus dimension of 308.8 mm (12.16"). Distortion caused by lateral tracking error is at least 25% less than possible with a nine or inch arm. However effective mass will be typically 12.0 grams. Also, a turntable designed for 12-inch arms must be selected.