Jolida JD 1000a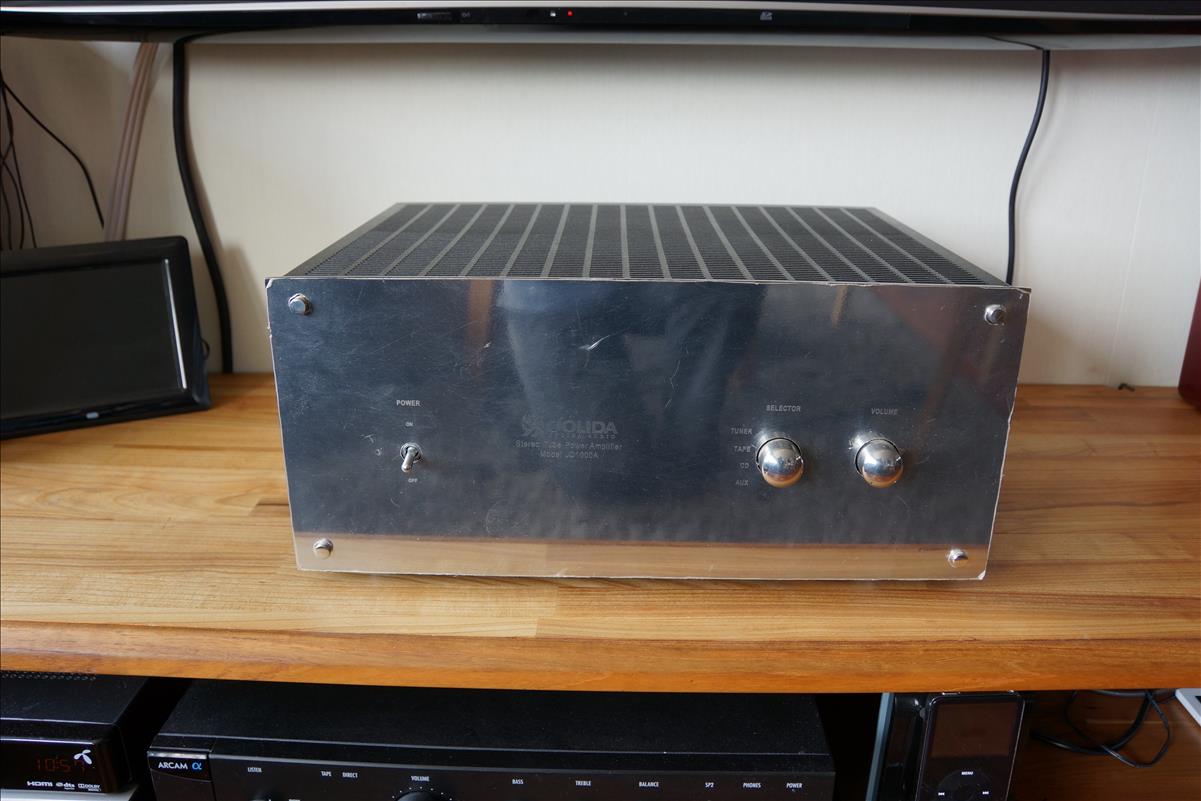 Tilstand: Brukt
SOLGT
---
Beskrivelse
Her er en original Jolida JD 1000a som er brukt men er meget pen og har fortsatt folien på frontplaten og er sannsynligvis meget lite brukt.
Siden jeg ikke vet bakgrunnen til denne selges den allikevel som normalt brukt, gjennomgått og justert og fungerer utmerket.
Meget bra lyd og en utmerket forsterker for deg som vil ha en klassisk meget vellydende rørforsterker som driver normale høyttalere med letthet.
4 linjeinnganger, ikke remote.
8stk EL 34 som er både rimelige, vellydende og robuste rør.
User Reviews
Submitted by
Don a AudioPhileDate Reviewed:
April 29, 2003
Bottom Line:
I have purchased a modified version of the amp from a fellow who goes by the name of "underwoodwally" on Audiogon. I have not heard the stock version of this amp, but I can see from the other reviews here that everyone is amazed by theirs. Let me say that the modified version is just about as good an amp as I have heard! The modification consists of upgrades to the internal wiring with Cardas cable, various new caps, resistors, etc…. The stock Chinese preamp tubes are also replaced with Electro Harmonix versions. The 8 EL34's are still the stock Chinese tubes. The modified version is sold for $1990 right now, but I purchased their demo for the $1690 list price. I never met underwoodwalley, but Walter (his real name) provided excellent advice, shipped immediately, and was very professional. I am sure that there are other sources for this amp, both stock and modified, with similar deals, but if you are interested, check Walter out as he is very fair and a pleasure to deal with.

The Jolida replaces a Krell KAV 300i integrated. The Krell was a very good amp. The Jolida completely and totally blows it away in every category. The source is an Opera Audio Consonance 2.2 CD player (excellent very smooth player with a tubed output section) and the speakers are Joseph Audio RM25si Mk II's. I listen to all sorts of music from Bach on period instruments to good old Grateful Dead tunes. I also have lots of jazz recordings. I have used this amp for a couple of weeks now and it is
… READ MORE
---
Submitted by
Dmorris a AudioPhileDate Reviewed:
May 30, 2002
Bottom Line:
This amp is a huge "GIANT KILLER." I have never experienced such musical clarity. I am currently using 8 Svetlana EL34, 2 Svetlana 12ax7 and 2 Jan-Phillips 12at7. My music is heard thru out my home as if you were right in front of the speakers. There is no distortion in any of my inputs. Playback of CD's or Minidisc is a pure pleasure.
---
Submitted by
Vincent a AudiophileDate Reviewed:
December 8, 2001
Bottom Line:
I have noticed that all reviewers, including me, have found this amp by happenstance and not a prolonged and expensive march through snake oil laden audio swamps that the average audiophile must endure. Can it be we have collectively stumbled on the perfect amp for less than golden eared folks spend on cable trying to fix their ill mannered Class "A" amps? I can truthfully report in my case, I have yet to hear better than the Jolida 1000.

I use mine to power Apogee Stage speakers. I decided to try the 1000 after being won over by Jolida's cd player after had I tried Onkyo, Phillips, and Sony ES cd players. I bought my 1000 at Audiogon equipped with Svetlana tubes.

It replaced a 200 watt B&K 4420 solid state amp, that had in turn buried a Denon 100 watt amp. With the B&K, the sound was strong, and full. However, there was a hint of grain and it outright beamed at about 9000 hz. With much of my musical material, I had an uncontrollable urge to keep turning up the volume in search of "real." (My Apogees are capable of giving "real .") Finally I realized it was futile trying to coax civility out of the B&K. After plugging the Jolida 1000 in, I wondered why I waited so long to make the switch.

I really don't think us reviewers here are naive and just don't know the wonders of owning Krell, Levinson, Jadis, or Musical Fidelity Nuvistas. I've heard all of these on Apogee speakers. Believe me, Jolida owners, you're not missing a thing! We just can't help having found the
… READ MORE
---
Submitted by
Scott a Audio EnthusiastDate Reviewed:
August 3, 2001
Bottom Line:
This amplifier has been a blessing. I bought it after becoming completely fed up with the whole hometheater thing - speakers & cables everywhere. Movies sounded edgy and forward even with the THX certified re-eq feature; In two channel mode, some things sounded fine (small jazz groups, classical); but much of the music (especially vocals) lacked midrange warmth. Alternative rock in particular sounded sterile, dry, and very forward.

After six months of frustration - (Dealing with local Hifi guys, moving equipment here, there & everywhere trying to find optimal speaker placement) - I read about the 1000a in Absolute Sound & called Jolida to learn more. I ended up buying my amp unseen & unheard from Galen at Galen Carol Audio (He fedex'ed it the day I ordered it). He also gave me a good deal (which I'll keep to myself). He'll probably hook you up too.

The amp arrived very well packaged & went together easily (Power tubes were in their own boxes and had to be installed in the amplifier). I turned it on & it sounded great even before biasing. I use a Sony DVP S7700 as my primary Audio (CD)/Video (DVD) source. It works nicely with this amplifier. I have the combo paired with Soliloquy 5.0's w/stands (also purchased unseen/unheard base on converstaions with Jolida & several very descriptive reviews).

I usually listen to music at moderate volume levels. I am impressed with the punch & impact of this amp at such levels - a warmth that was totally
… READ MORE
---
Submitted by
Derek a AudiophileDate Reviewed:
April 9, 2001
Bottom Line:
This is a follow-up. The first 1000a I purchased had to go back due to damage during shipping. Moondance Audio in Denver really sucks, very poor service. Anyway, I purchased the other 1000a from responseaudio/Bill Baker and the customer service from Bill was excellent. However I had a small problem with one of the channels dying out on me. The problem was in the power cord that was supplied with the unit. So I bought some beldin cable and made my own power cord. Both channels sound great.. This is the best amp I have ever owned in my life. Their is no background hiss or hum from the speakers even with the volume turned all the way up. You get pure "black sound" from this amp.

ASSOCIATED EQUIPMENT:
Magnepan 1.6QR
Pioneer Elite 300cd player
Kenwood Silver Series Minidisc Player
Bettercables speaker wire
Audio Stream Interconnects
Apeture Interconnects
Monster Power Conditioner 5000
8 stk EL 34 rør som både er et rimelig, vellydende og driftsikkert rør.